Pulsar released the Merger thermal imaging binoculars line late in 2022, and in the following months added another two models, for a lineup of three incrementally powerful optics, all sharing a capable laser range finder and a wealthy set of premium functions and features.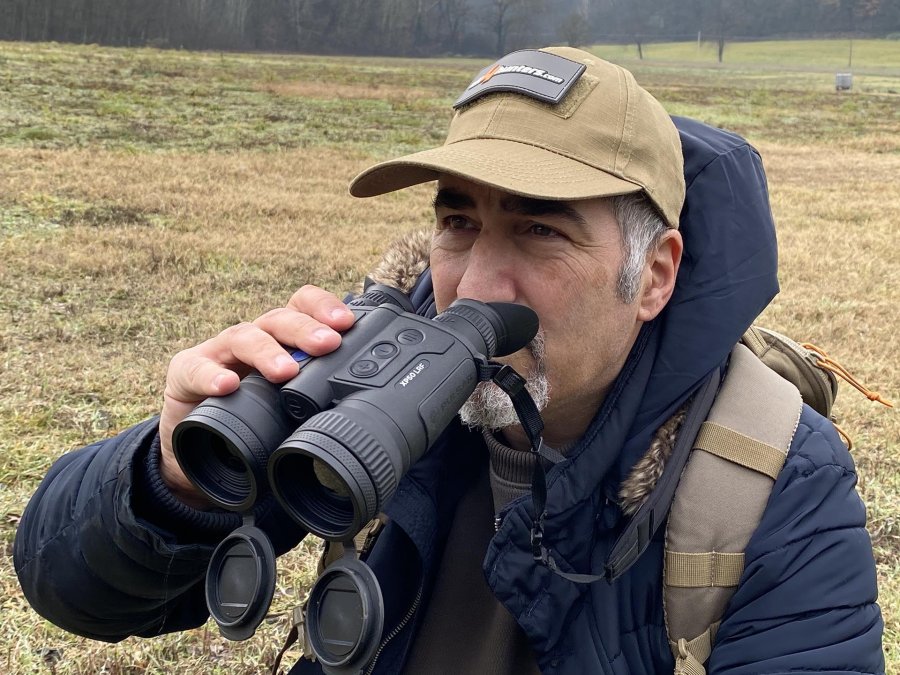 Starting from the "entry level" to the Merger line XQ35, equipped with a 384x288 pixel @ 17 µm sensor, all the way up to the astounding XL50, sporting an HD 1024x768 @ 12 µm thermal sensor. Right in the middle, the Merger LRF XP50 – first to be introduced and based on a 640x480 @ 17 µm thermal sensor – a perfect balance in price, features and overall quality in our opinion, and this is the model we will review today.
Franco Palamaro, © F.PALAMARO
Shared features also include AV and photo recording (on an integrated 16GB memory), computer connectivity and recharging via USB-C port, smartdevice connectivity via WiFi and free Stream Vision 2 mobile app, built-in laser rangefinder with a range of up to 1 km sporting spot and continuous measure, waterproof and temperature environment certifications (IPX7 and operation from 50 to -25C°), and a combined battery life that can exceed 10 hours continuous use – the Merger uses two independent Li-Ion cell packs, one internal and one proprietary replaceable APS 3 battery.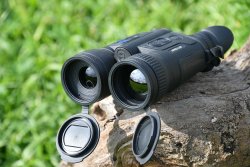 Franco Palamaro, © F.PALAMARO
The Merger, in general, is an exemplary reference design that should be set as a standard for how to correctly build an electro-optical binocular set: ergonomic, robust, elegant and streamlined as the eye wants its part, and good looks also hint at quality and performance. Of which, the Merger LRF XP50, has in spades. Materials are also across the whole Merger line top notch, metal parts are built form magnesium alloy stock that's assembled with excellent care for details, controls are a joy to operate, and the rubber feels great, the same as holding a flagship reflex camera, in fact – just like my Nikon D5.
Let's now concentrate on the specific model under test: the Merger LRF XP50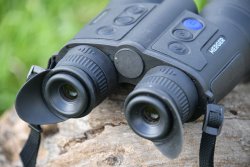 Franco Palamaro, © F.PALAMARO
But, before technical specifications and actual field performance, I'd like to delve on the Pulsar design. In fact, what's most impressive of the Merger is the actual handling. Due to Pulsar's basic design philosophy of following the lines and morphology of a traditional pair of daytime binoculars, this thermal imaging optic is extremely ergonomic; the shape just has a way of falling into our hands, and the clever placement of the controls in an innovative double row, three button per row interface panel, makes it easy to operate and use. Moreover, the actual size and weight also fall within the envelope of daytime binos, making the Merger LRF XP50 very compact compared to the average thermal imaging bino set.
Franco Palamaro, © F.PALAMARO
Additional features, such as a proximity sensor, allows instant switch-on of the display when it is brought to the user's eyes, and switch-off as it is moved away or not used, i.e. tied with a neck strap.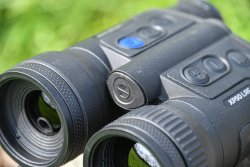 Franco Palamaro, © F.PALAMARO
The control panel falls squarely in the comfort zone of the fingers holding the optic, so it's easy to reach and operate, although to fully use all features both hands must be used. Performance of the laser rangefinder is excellent, in very clear days or on ideal surfaces such as white walls, it will easily exceed the declared 1 km range. Even in the field, such surfaces exist as references, and they can be used to evaluate distances when game or targets are too dark to reliably reflect the laser beam.
Once turned on, what catches immediately the eye is the quality of the image presented in the eyepiece: the sensor used (built by Lynred in Europe) features pinnacle sensibility performance, with an NETD that is better than 25 mK. The dual AMOLED microdisplay inside the eyepieces (adjustable for interpupillary distance and individual eye diopters), capable of full color, 1024x768 pixel resolution is extremely sharp.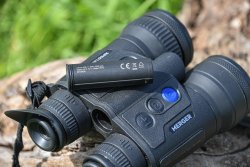 Franco Palamaro, © F.PALAMARO
The quality of the image is in fact the best we've ever seen in a 640 wide resolution-class sensor device, short of military gear (and even then, the image is not as "nice"), with contrast, detail, greyscale smoothness and overall dynamic range that is really in a class of its own. When observing game, we could even image the patches and fur pattern, that's how awesome the image really is. Many filters, image enhancements, color palettes and modes are available to increase quality and performance in every environment and field condition, increasing detection range and identification in low temperature contrasted scenes, during rain or fog.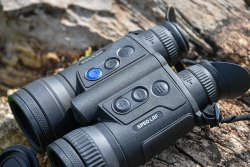 Franco Palamaro, © F.PALAMARO
Sensibility is exceptional, due to the sensibility of the FPA sensor used and high quality of the fast aperture, F50/1.0 germanium lens elements equipped objective, with premium surface treatments and coatings. The Merger LRF XP50 has a native magnification of 2.5х. Combined with the 8x ratio digital zoom, it is possible to gradually increase magnification digitally up to 20x, in 2x steps or continuously. Image degradation sets in only at the highest of zoom settings, and even then, the image is usable, if somewhat wobbly – use the 16-20x only on a tripod, I'm not a fan of extreme magnifications on handheld binos due to shake and vibrations.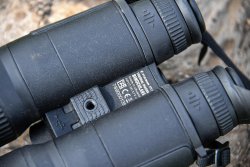 Franco Palamaro, © F.PALAMARO
Game assessment and evaluation, including sex, age and even health, is easily done with the quality of the Merger. The performance is so high, that I can imagine a lot of additional uses that go beyond the typical hunting field, well in the professional sphere – detection range is claimed up to 1800 m!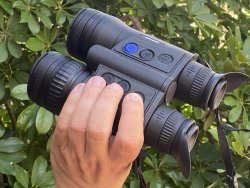 All in all, the best thermal imaging binos I've ever had the pleasure to use to date. And, there still is to try the top of the line model with 1024 HD resolution, which I just received… But that is for another day.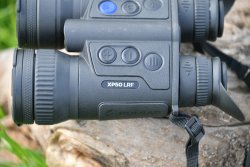 Franco Palamaro, © F.PALAMARO
Price of the Merger XP50 is just shy of 5,000 euro, it can be more or less than the 5k mark due to local VAT and taxes. 
Many will balk at the pricetag; not the experienced hunter or pro that knows what the performance level and quality he's purchasing with the Merger LRF XP50 from Pulsar. This actually hits the "sweet spot" between the entry level Merger with lower resolution and the 1024x768 monster of the XL50, earning fully our "best buy" label in this category.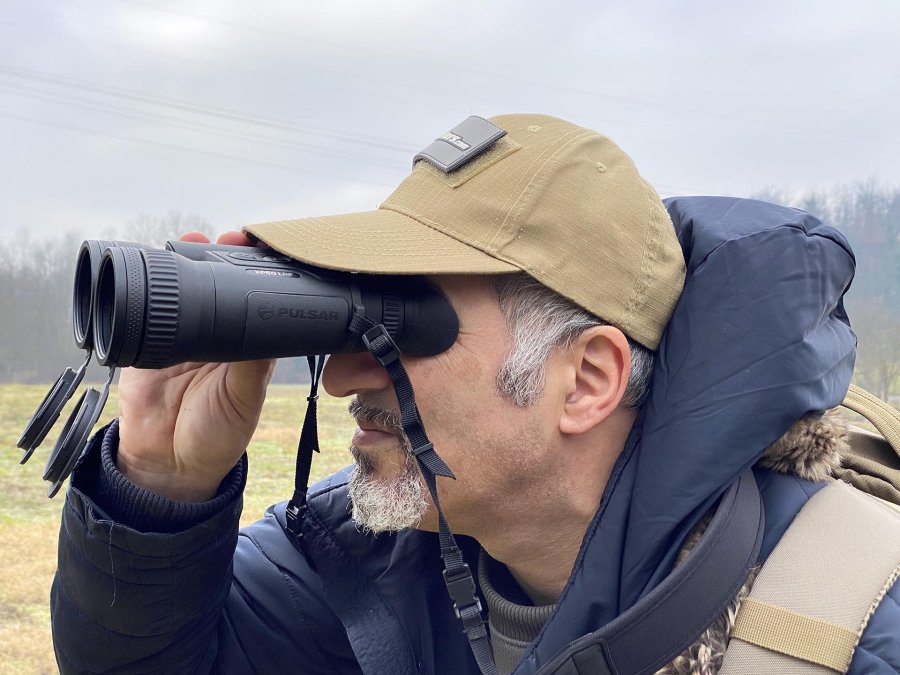 Pulsar Merger LRF XP50 specs and price

| | |
| --- | --- |
| Manufacturer: | Pulsar - Yukon Advanced Optics (www.pulsar-nv.com) |
| Model: | Merger LRF XP50 |
| Type: | Binocular thermal vision device with laser range finder |
| Magnification: | 2.5x native, 8x digital zoom (up to 20x magnification) |
| Objective: | F50/1.0 with coated germanium elements |
| Sensor: | 640x480 pixel uncooled Amorphous Silicon microbolometer FPA sensor with 17 μm pixel pitch, with automatic and manual calibration |
| IR sensibility:  | LWIR (from 7.7 to 13.2 um), NETD better than 25 mK |
| Eyepiece(s): | AMOLED HD color Microdisplay with 1024x768 pixel resolution, ± 5 diopter adjustment, 5 mm exit pupil, 15 mm eye relief, interpupillary distance adjustment 62 – 74 mm |
| Performance: | Max. observation range of a 180x50 cm rectangular heated object in optimal conditions: 1800 m (lights a pixel at this distance); focusing range, 3 m – infinity |
| Rangedfinder: | 1,000 m measuring range, ± 1m accuracy, 905 nm laser (IEC safety class 1) |
| Batteries: | Dual Batteries, one integrated (4,000 mAh) and one replaceable (Pulsar APS 3 Li-Ion, 3,200 mAh), operating time on battery pack (at t=22°C), up to 9h |
| Dimensions: | 196x143x76 mm |
| Weight: | 950 g (batteries included) |
| Materials/Finishes: | composite glass fiber reinforced technopolymers on an magnesium alloy metal frame, with rubber grip panels |
| Notes: | Built-in DVR recorder (16GB internal memory), WIFI Stream Vision connectivity, compatible with StreamVision II app for Android and IOS, USB-C port, IPX7 waterproof certified |
| Price (MRSP): | 4,950 euro (price in your region has to be requested to your local distributor) |