Small and light is the new trend, and the new Viper clip-on thermal imaging optic is the smallest, lightest, and most compact device in its class, weighing in only 254 grams without battery.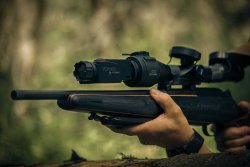 Packed with features, this ultra-low profile electro optic is designed to be seamlessly used in conjunction with your standard daytime optic, be it your observation telescope, digital camera or hunting riflescope. 
And especially in shooting and hunting scenarios the Viper shines: its state-of-the-art engineering allows direct in-line clip-on mounting to the objective bell of the riflescope without any tools and does not need re-zeroing, so it does not matter how many times you mount on and off the Viper, the point of impact of the sight on your gun always stays the same.
In fact, Nitehog guarantees the accuracy of the Viper; due to rigorous individual device testing, the Berlin-based manufacturer can guarantee a standard deviation of up to 3 cm per 100-meter distance in out of the box condition, without alignment, or zero deviation per 100-meter distance with simple, manual alignment performed.

Features in detail of the new Nitehog Viper thermal device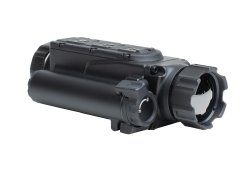 The Viper features a 35 mm F 1.2 Germanium objective lens with scratch resistant hard carbon coating, coupled to a 12-micron pixel pitch, 320x240 resolution Focal Planar Array microbolometer sensor; the proprietary Nitehog A-Core imaging engine, based on cutting-edge hardware solutions and dedicated video processing algorithms, provides excellent image quality with fast 60 Hz frame rate. All the above contribute to superior detection ranges, up to 1380 meters for a standard 180 cm tall object, even in unfavorable ambient and weather conditions.
The rugged Magnesium housing of the Viper is also water resistant, with IP 66 certification.
The User Interface menu structure of the firmware is extremely simple and intuitive, starting from only four icon items in the FOV of the device, from which all settings can be selected. Software features include Nitehog Image Razor technology processing to ensure clear and sharp vision in a variety of environmental conditions such as fog, rain, snow, smoke, and total darkness. Image modes are also available, such as White Hot, Black Hot, Red Hot, and isotherm.
The new firmware (Rev. 0.134) includes three types of calibration modes, selectable Auto BPR function to automatically correct and clear bad pixels on the sensor, and the possibility to reset factory settings.
Nitehog Viper: Not only for hunting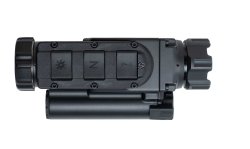 The Viper multifunctional clip-on thermal imaging optic is also a very flexible device that can be used not only mounted on hunting riflescopes, but also on other suitable daytime optics, including digital cameras and camcorders, and by itself as a handheld monocular, without the need of additional eyepiece optics thanks to the unique design of the collimator relay lens on the display side of the device. Professional use in emergency situations by policemen, firefighters, mountain rescuers; civil engineering and just outdoor enthusiasts' activities, the Nitehog Viper deliver great performance in a small, lightweight and ultra-compact package. 
all4shooters.com will receive a sample of the Nitehog Viper for extensive and in-depth testing and review in the near future, so be sure to check back and follow us! 
The Nitehog Viper compact hunting clip-on thermal imaging optic has a MSRP of 3099 euro, including VAT; the price may differ in EU countries due to local VAT and taxes regulations.
As is the case for all thermal and night optics that can be used directly mounted on a firearm, all legal regulations of the firearm laws and the respective national hunting laws must be respected. 
---