We have been introduced to the interesting and feature packed Nitehog Gecko 35 Pro LRF compact, hand held, hunting observation thermal imaging monocular at this year's IWA in Nuremberg, and now that finally it is available in most European gunshops, we have the chance to fully test a sample.
The Gecko introduces a new attitude for Nitehog, that up to now has always offered electro optical devices that could have been described as "spartan": tough, simple and reliable, with very little left to additional features.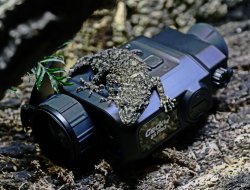 This changes somewhat with the Gecko, thanks to the richness of features included in the device, such as a integrated 800m Laser Range finder, a full Audio/Video recorder with 32GB built-in memory for photos and video, built-in digital compass and motion sensor, wifi connection supporting smart devices with free app – plus of course, the top level 35mK NETD, 12 μm thermal image sensor with 640x512 pixel resolution.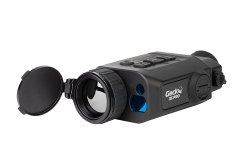 The objective is an F/1.0, 35 mm focal length lens with germanium elements; the thermal image processing engine offers Ultra Clear Mode for best performance in harsh weather conditions and a fast 50 hz frame rate. The eyepiece features a 1024x768 resolution color OLED display with display-off function that can change the hue of the image between cool hue and a warm hue depending on the environment lighting. The power is provided by a 16550 Li-Ion battery that can last up to 6 hours of continuous use.
We could not resist to briefly test the compact (only 400g including battery) Nitehog  Gecko 35 Pro LRF, and our opinion is positive: the image is very sharp, handling is good with decently placed controls – we did NOT read the manual, that will be reserved for the in-depth test – but it seems that the menu system is quite intuitive. The laser range finder is easily activated, and of course the button placement can induce users of other thermal imagers to have some second guesses and "surprises", but this is neither here or there: it's like asking a Nikon camera user to easily switch to a Canon… Stay tuned for a complete test and field review of the Gecko soon on all4hunters.com!
The Gecko is available now at a MSRP of 2,950 euro. The price could vary slightly in various EU countries due to different VAT applied.
Nitehog Gecko 35 Pro (LRF) specs and price
| | |
| --- | --- |
| Model: | Nitehog Gecko 35 Pro (LRF) |
| Type: | Handheld thermal imaging device |
| Price: | 2,950 euro (RRP in Germany)  |
| Sensor Resolution: | 640 x 512 pixels, 12µm pixel pitch  |
| Objective Lens: | 35 mm, F/1.0 |
| Sensor NETD: | 35 mK |
| Frame Rate: | 50 Hz |
| Magnification: | Optical: 2-8x; digital 1-4x |
| Detection Range: | 1,818 m |
| Display: | OLED, 1024x768 pixel resolution |
| Laser Range Finder Range: | 800±1m |
| Battery: | 3.6V Li-ion battery, life up to 6 hours |
| Weight: | 400g |
| Dimensions: | 160x90x50mm |