Thermal imaging optics that especially in some situations allow hunters to practice hunting in an effective and, above all, safe way are increasingly popular and appreciated. Besides optic quality, choice tends obviously towards devices that do not hinder gun handlimg and swing, therefore compact in size and light – like the Viper thermal imager from Nitehog. 
Video: hunting test with the Nitehog Viper thermal imager
This video has been hidden because of an external service (YouTube) that could potentially collect personal data.Allow video services for the duration of the visitAllow video servicesStop allowing video services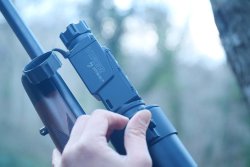 At 8.95 oz/254 g, when added to the riflescope the clip-on thermal imaging optic does not involves any discomfort or change for the hunter. Speed and ease of assembly are excellent, thanks to the use of a simple adapter ring ring that allows fixing the device to the scope bell with a single movement. Removal is just as fast, obviously, and allows you to use the Viper as a hand-held device. Ease of use distinguishes the Viper in the controls too – there are just 3 buttons through which you can select the main functions for observation mode, without the need to reset the device since through the imager you will have the same field of view with a maximum 3 cm deviation per 100 meters. It should be pointed out that it is advisable not to exceed 3x magnification for optimal use.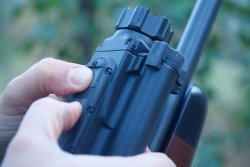 When aiming it is possible to follow the movement of wild animals without any delay in the image and this makes the imager suitable in different hunting situations. Heat source detection makes it possible not only to immediately sense the presence and movement of game during observation, but also to detect the possible presence of people or dogs, increasing the safety standards for the hunter and concentration at the time of shooting. 
Software features include Nitehog Image Razor technology for clear and crisp viewing in a variety of environmental conditions such as fog, rain, snow, smoke and total darkness.
Palette modes such as White Hot, Black Hot, Red Hot and isotherm are also available. In the case of wounded game, in the first minutes after the shot the Viper can help in the detection of blood traces on the ground, becoming a useful tool for the recovery of the dead animal. The lightness of this thermal imager should not deceive because the Viper features a 35 mm F 1.2 germanium lens with a hard carbon coating that is scratch resistant. The sturdy magnesium housing is water resistant. The hunter can therefore move freely even when hunting in the woods without fear of impacts with vegetation and other natural obstacles. The Viper does not record images and this is perhaps one of its few limitations, but it can still be used in contexts other than hunting, clipped onto digital cameras and camcorders.
---
For more information on the Viper thermal imaging optic please visit the Nitehog website.