The red dot sights are gradually gaining ground in the field hunting. Their versatility, small size, light weight are the compactness of the red dot sights to an excellent tool with which to make accurate shots and effective on game.
The Burris is a company that produces high-performance optics including the FastFire III, seeks a holographic red dot very strong thanks to the structure in stainless steel, bronze and anodized aluminum that give high performance and resistance to time.
The size and light weight of the FastFire III alloow to the hunter to install this aim holographic red dot directly on any weapon, including the slide of large-caliber semi-automatic pistols, just to give an idea of ​​the versatility of this product of Burris.
With a focal length unlimited, the FastFire III can be used on guns, but especially on rifles and shotguns hunting. The low magnification, which provides a particularly large field of view, and the virtual absence of parallax from 10 to 150 yards (from 9 to 140 meters) allow the hunter to make accurate shots and effective installing the FastFire III on his weapon.
The performance, however, are nothing without resistance. For this reason, the aims holographic red FastFire III has a special reflective coating between two lenses finely polished to achieve maximum protection from scratches and abrasions on the reflective surface narrowband. Furthermore, the outer surfaces of the lenses are entirely coated for maximum light transmission.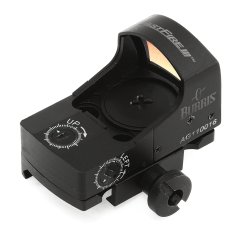 Indeed, FastFire III presents the intelligent control of the brightness, which can be manually adjusted on three different levels. Alternatively, you can use the electronic control which automatically adjusts the brightness, with the aim of obtaining the best parameters and adjustments for any hunting situation.
Remarkable performance related, however, the simplicity of use. The unique one-stop battery replacement is from above, requires no disassembly, no adjustment of the point of impact and low battery indicator will cause sudden shutdowns will not occur. These features allow the hunter to replace the battery in peace and in a simple way.
If the weather conditions are particularly difficult, the innovative protective cap and the coverage provided by the lens, protecting the target from rain and snow while ensuring a
clear view of the surrounding environment and an effective tracking of prey. In any case, the new FastFire III is obviously waterproof, being 100% sealed against water and underwater.