The FE-Load is probably the abbreviation for the word Ferrum, which means "iron" in Latin. In principle nothing new, but what makes the FE-Load interesting is the mix of 2 different shot sizes. The 12/70 combines 14 g of 3.8-mm diameter (#2) soft iron shot and 22 g of 3.3-mm (#4) soft iron shot. The manufacturer thus wishes to combine the higher energy of the larger shot with the broader coverage of the smaller shot pellets, which are more in number. The 12/76 gauge can top this attractive pattern by 4 g, up to 40 g. Here the ratio is 16 g of 3.8-mm (#2) soft iron shot and 24 g of 3.3-mm (#4) soft iron shot. By the way, both cartridges are setting new standards in terms of steel shot loads performance.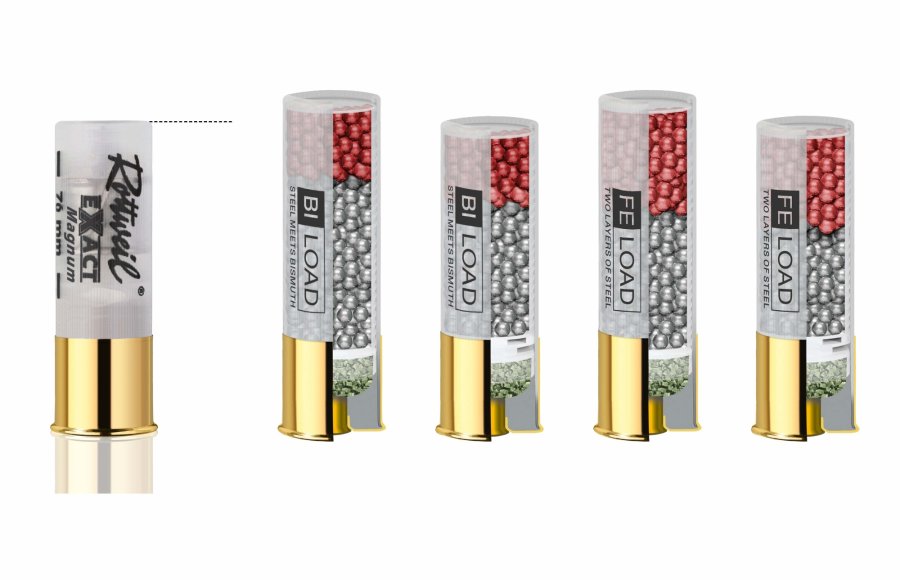 BI-Load: how does the mix work?

Also brand-new and available from June 2020, the BI-Load shotshells are also available in 12/70 and 12/76 gauges. In this case, the name BI means that they are loaded with two different shot sizes and also two different materials. In the 12/70, 8 g of red colored bismuth 3.8 mm (#2) shot and 28 g of 3.5 mm (#3) tinned soft iron shot are loaded one after the other. The heavy bismuth is intended to ensure a higher transfer of energy to the game, while the larger quantity of tinned soft iron shot is intended to ensure better cover. This way you can have an affordable cartridge, since bismuth only shot would drive the price very high. The 12/76 Magnum uses 8 g of bismuth with the same shot size, but here 32 g of tinned soft iron provide better coverage. Two consistently interesting loads from Rottweil, whose practical effectiveness is certainly something to be excited about.
| | | | | | | |
| --- | --- | --- | --- | --- | --- | --- |
| Name  | Gauge | Shot size (mm) | Shot No. | Shot weight (g) | Contents per pack (pieces) | Price per pack* in euro |
| BI-LOAD HP MAGNUM 40g | 12/76 | 3.8 (BI) + 3.5 (FE) | 2 (BI) + 3 (FE) | 40 | 10 | 13.50 |
| BI-LOAD HP 36g | 12/70 | 3.8 (BI) + 3.5 (FE) | 2 (BI) + 3 (FE) | 36 | 10 | 12.50 |
| FE-LOAD HP MAGNUM 40g | 12/76 | 3.8 (FE) + 3.3 (FE) | 2 (FE) + 4 (FE) | 40 | 10 | 9.50 |
| FE-LOAD HP 36g | 12/70 | 3.8 (FE) + 3.3 (FE) | 2 (FE) + 4 (FE) | 36 | 10 | 8.50 |