Especially in combination hunting guns, a shotgun slug can be an interesting addition. Since the request for effective lead-free hunting bullets is becoming ever louder, Rottweil has reacted accordingly with the Exact Green. The new shotgun slug in 12 gauge is made from food-safe tin.
This is available in two loads: a 12/70 (2¾ chamber) with regular gas pressure for standard shotguns and a 12/70 (2¾ chamber) with a magnum load (max. 1050 bar) for shotguns proofed for higher pressures. According to the manufacturer, the 25 g projectile should reach about 515 m/s, which yields about 3300 joules of energy. The Magnum version drives the tin projectile with a green plastic tail up to 565 m/s, which means about 4000 joules of energy.

According to the manufacturer, this corresponds to up to 30% more energy into the game body compared to competitors with a Brenneke lead slug. The higher speed results in both a smaller lead factor for fast-moving game and a flatter trajectory. We are looking forward to the first hunting experiences with it.

Rottweil Exact Green: the most important features of the new lead-free slug – Available from June 2020
Up to 30% more energy compared to similar loads with Brenneke lead bullets


Extremely high velocity for more power

12/70 Magnum:  V 2.5 = 565 m/s
12/70 Standard:  V 2.5 = 515 m/s



Effective 25 g tin bullet with green plastic rear section; transparent case with a 20 mm bottom cap


No special shotguns designed for steel shot are necessary when using this ammunition


The new shotgun slugs from Rottweil have a lower bullet weight amd higher velocity, that is:

Less lead factor for highly volatile wild boars
Less bullet drop at longer shooting distances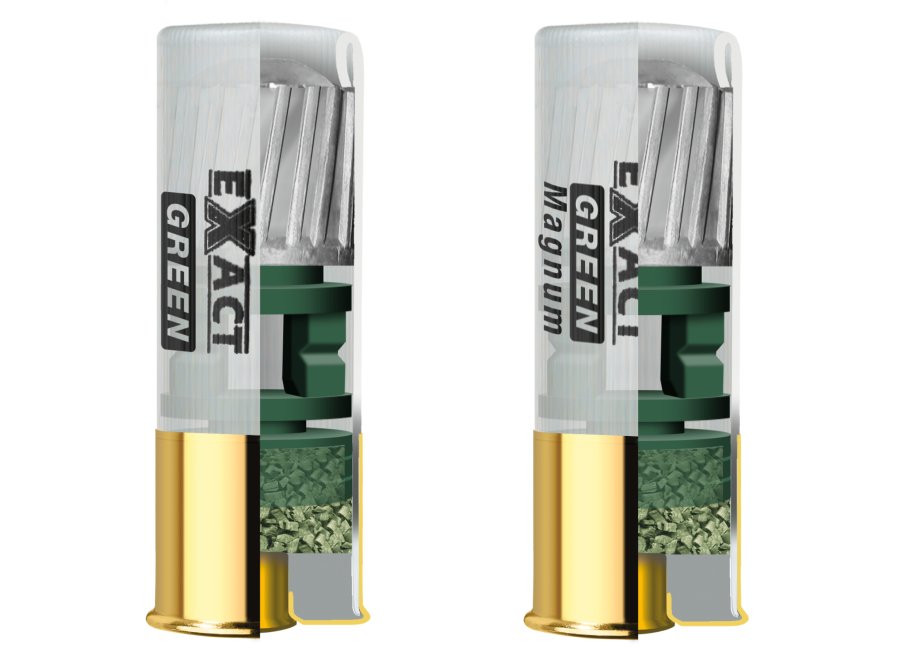 Rottweil Exact Green: technical data and prices

| | | | | | |
| --- | --- | --- | --- | --- | --- |
| Designation | Gauge  | Bullet weight (g) | Bullet material | Contents per package (pieces) | Price per pack* (€) |
| EXACT GREEN | 12/70 | 25 | Tin | 5 | 18.90 |
| EXACT GREEN Magnum | 12/70 | 25 | Tin | 5 | 19.90 |
RSP in Germany incl. 19% VAT. 
Both load versions of the lead-free Rottweil shotgun slugs will be available in specialist stores from June 2020.
---
Further information on Rottweil products can be found on the new Rottweil website at www.rottweil-ammunition.com.