Introduced in 2016, the new line of Baschieri MG2 Mythos cartridges  is both a revival and a union of two special collections, MG2 and Mythos, brought together as a unique, high-performance line.
During the course of the current hunting season, we have so far tested two 12-gauge loads, finding them to be very well balanced with 37 and 38 grams of lead. A feature common to both loads is the high velocity induced by the MG2 powder, a gun propellant with a very consistent performance as the season progresses and as outside temperatures fall.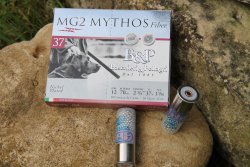 From mid-September up to the beginning of December, which marks the end of the permitted period for hunting wild non-migratory game, tests conducted in diverse terrain, hills and valleys, and with varying humidity, air pressure and temperature, have consistently yielded positive and satisfying results, whether hunting pheasant with dogs or in the occasional encounter with hares and wood pigeons.
The tempered, nickel-plated lead shots produce a compact shot pattern with high residual energy.
The nickel plating of the lead shot guarantees harder and rounder pellets, resulting in greater speed and less deformation in flight. Optimal penetration is therefore assured, increasing your chances of landing a fatal shot.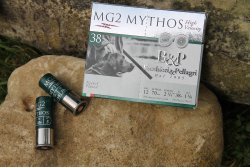 Preventing injury or loss of wild animals not recovered by the hunter is one of the main objectives of Baschieri & Pellagri research. 
The MG2 Mythos Fiber packed with 37 grams of No.7 lead shot has proved to be an ideal solution for a first barrel. 
The felt wad guarantees an even shot pattern from the first barrel, which is often instinctive and taken from short-to-medium ranges of 15 to 25 metres. 
For the second or third barrel, the Mythos 38-gram High Velocity with No.5 lead shot was used. This gives a concentration of compact shot patterns, even at distances in excess of 40 metres, due to its frost-proof plastic wad with a high-capacity, pre-cut 6-tab container.
The cartridge case used for both cartridges is the Gordon System, which has been patented by Baschieri & Pellagri. This is not only a container for loading, but also constitutes an important part of the shooting action, with the compression of its base wad absorbing kinetic energy and reducing recoil to the shooter's shoulder by approximately 10 per cent.
The MG2 Mythos line is diverse and includes three other 12-gauge HV cartridges packed with 36 grams, 40 grams and 46 grams, respectively, which are even suitable for guns with a magnum chamber. For the 20-gauge, the line features a 28-gram nickel-plated HV cartridge with plastic wad, as well as a 30-gram nickel plated lead cartridge with MG2 powder, but with a felt wad. Although they have similar features to the two we have tested, presumably offering similar results, we shall not fail to put the rest of the MG2 Mythos range to the test during our future hunting excursions.