Force, stopping power and accuracy are the key features needed from a cartridge designed for maximum instinctive shooting performance to bring down fast and resilient game like wild boar on driven hunts.
It was exactly for this that Baschieri technology developed the 12-gauge BlackShock cartridge. 
This modern slug has been designed using a lead mold, with outer helical rifling and a tapered conical tip for optimal smoothbore shotgun use. Its ballistics is particularly suitable for extended and stable high-speed trajectories at a range of 50-60 meters, the optimal distance for driven hunting. 
The hollow base of the slug and the plastic tip realign the center of gravity and thrust of the ammunition to further enhance accuracy.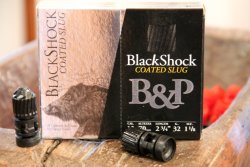 The black coating applied to the outer surface of the slug preserves the barrels of the weapons used, leaving no lead residue inside.
This feature is not just important for ensuring the optimum ballistic performance of your chosen weapon when hunting, but becomes absolutely crucial in competition shooting, ensuring you don't have lead residue or shot deformations that could compromise accuracy, even after continuous sessions or multiple shots.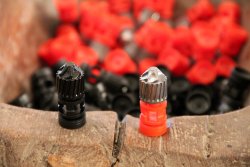 Thanks to its aerodynamic profile, the 32-gram lead BlackShock cartridge with its plastic tip achieves muzzle velocity of 455 m/s with kinetic energy of more than 300 kgs, generating a stopping power capable of bringing down large wild boar as well as other ungulates of considerable size.
Baschieri R&D has undoubtedly focused mainly on ensuring the accuracy of this ammo, which offers comparable performance whether using a smoothbore shotgun calibrated for middle-distance shooting, or a rifled shotgun optimized for slugs.
The power of the BlackShock has been designed with typical hunters' shotguns in mind, which is why Baschieri can offer ammunition to suit all weapons maintained in good condition. Baschieri & Pellagri also offer a 12-gauge, 40-gram magnum version of BlackShock, specifically designed for hunting in dense and challenging environments where greater power means greater accuracy, even when faced with obstacles and vegetation in the line of fire.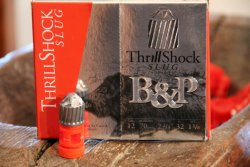 The exceptionally fast and powerful Baschieri & Pellagri ThrillShock cartridge is similar to the BlackShock 32-gram 12-gauge but without the surface treatment, and is capable of reaching even greater veocities of around 500 m/s and unleashing an energy of over 400 kg. 
This ammo is also produced for smaller balanced-load 20-gauge, 28-gauge and .410 bore weapons, like the 9-gram, .410 bore, capable of achieving incredible speed and energy which ensures an excellent performance.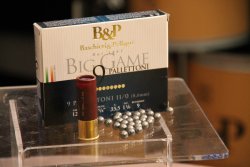 Baschieri & Pellagri's buckshot completes their Big Game range. Used for hunting in many countries across Europe, it ensures extremely effective stopping power and shock for wild game, with a compact and accurate shot pattern from middle distances. 
Available shells include the 11/0, 3.5 gram buckshot, which contains 9 lead pellets for a total weight of 33 grams, capable of reaching a speed of around 400 m/s.
The second cartridge is a 12-pellet buckshot shell with 44 gram load, whilst the third alternative is a cartridge containing 15 copper pellets weighing about 55 grams, which, due to the stopping power of its numerous pellets, can bring down even the biggest game.