Article also available in other languages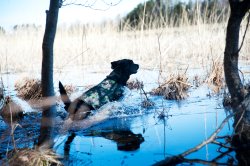 A brand of Dog Technic Sweden AB, the Dogtech product line includes high-quality protection garment for hunting dog and other working dogs in general, from Police dogs to guard dogs to other trained specialties, including military dogs. Using new manufacturing techniques and last-generation material, the Company offers pieces of garment that are both comfortable and sturdy, allowing the dogs to maintain total ease of movement when fulfilling their tasks.
The first Dogtech line of dog dickeys was launched in 1989, and was patterned after the needs and experiences of the company owners, enthusiast hog hunters themselves who had quite an idea of the dangers implied for hunting dogs by possible browls with animals of prey and of the health concerns posed by other elements, such as cold bog waters for retrievers during waterfowl hunting.
As high visibility is a center point for the safety of both hunters and hunting dogs, the full Dogtech line of dog dickeys is available in four high-intensity colors and sports reflective finishes and surfaces.
All the dickeys feature a Neoprene outer lining, the same material used for diving suits, so to protect the dog from extreme temperature leaps should it operate in cold waters.
While a second outer lining of hard Nylon is used, an inner protection lining is also provided, manufactured out of several layers of ballistic Nylon − more specifically, up to eight layers, depending from the dog size. These layers are not sawn together, which allows any object impacting against the dog to glide away, preventing penetration and vital organs damage.
A specific model for hog hunting dogs and guard dogs, dubbed the Protector Pro, also features a simple Velcro collar with 4.5cm-long steel spikes that provide protection against neck attacks from wolves. Reportedly, many hunting dogs in northern Europe have been saved by this nifty accessory.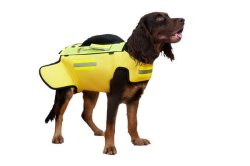 The Protector Pro vest also protects against drowning hazards as its inner knit mail provides floatation. The Dogtech Protector Pro vest also comes equipped with a rear pocket that will provide room and protection for any commercially available GPS tracking device, allowing the hunter to keep his or her trusty companion always under close scrutiny; said pocket is manufactured out of reinforced Kevlar to prevent wear, tear or other damages due to falls or other environmental hazards − should the dog run into a wire fence, to say.
A high level of care for quality and materials, an easy to operate and lightweight design, and an almost universal, all-rounder intended use allowed Dogtech to come out with a garment line that will provide a true "life insurance" for our dogs − at a very reasonable price. Perspective buyers can purchase the Dogtech products through the company's distribution network, which as of today covers Sweden, Finland, Italy, and the United Kingdom.