During some trips in the steep hills and the mountains that characterize the Fiordimonte Valley in Italy we took the opportunity offered by the rugged and varied terrain of these places to test the stability and resistance of the Crispi Track boots. 
The latter are dedicated to hunters who use to go mainly to the hills and mountains for walking hunts. Crispi Sport, founded in 1975 as a mountain footwear workshop, over time expanded its horizons investing more resources in research and technology without ever neglecting the quality of raw materials.
This video has been hidden because of an external service (YouTube) that could potentially collect personal data.Allow video services for the duration of the visitAllow video servicesStop allowing video services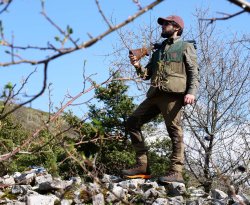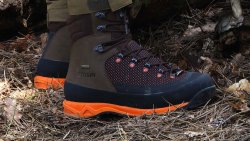 As well as for trekking and outdoor activities, always innovative products are made today also to match the various needs of hunters in the different environments where they live their passion.
The Track GTX boots are part of the Crispi High Visibility line and their characteristics are suitable for walking hunts on hilly terrain, allowing hunters to wander into the thickest undergrowth with a product that is always highly visible.
The lightweight and flexible nubuck upper is covered with a special thorn-protective  Spine Tech fabric, which protects the boot while allowing freedom of movement in wooded environments.
The correct balance between torsional rigidity and flexibility is achieved thanks to a mechanical bond that wraps the soft and comfortable part of the upper to the insole structure.
A specific system has been designed to support and protect the ankle and ankle knob area so that the boot gently molds around the user's ankle ensuring maximum protection against sprains even on the most steep and difficult terrain. At the same time, supporting the ankle knob it limits the lower joints fatigue even after long walks.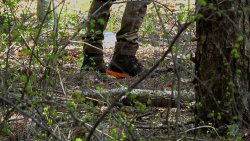 The attention to comfort is also confirmed by the polyurethane midsole with a cushioning system that uses its corrugated design to sustain the foot during the walk ensuring stability, support and protection against impacts.
The Vibram sole of the Track boot offers enhanced grip thanks to the combination of 3 particular materials.
The rubber tread features in fact some inserts made of a particular abrasive compound but above all you can see some small rings made of a special high tech fabric that maximizes the grip on any surface.
The particular design with self-cleaning grooves optimizes the slip resistance on the most brutal or wet terrain. Speaking of damp environments, the Track boots certainly does not fear winter rainy days or marshy areas, thanks to the waterproofing and the transpiration guaranteed by the Gore-Tex lining.