Its name is Highland Mid and it is an absolutely innovative boot. Introduced at the HIT Show last February, it's specially designed to offer maximum waterproof qualities, keeping your feet perfectly dry during hunting even in marshy lands.
Crispi Highland Mid: details and features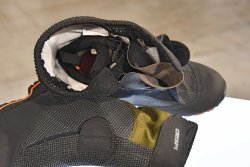 The Crispi Highland Mid hunting boots are suitable for use in all conditions and especially in rough and particularly humid environments.
All this thanks to an outer protective fabric consisting of a very resistant polyurethane interwoven layer and a water-repellent leather and cordura upper with a heat-sealed gaiter featuring a double waterproof lining. The bellows are thermo-sealed for additional protection against liquids. A large Velcro flap at mid-height guarantees watertight closure.
The completely new and interesting "Fast Lock" internal lacing system consists of a quick tightening system for the laces that only have to be pulled outwards without the need to be knotted or tied in any way. This allows an easy and immediate fastening even when gloves are worn.
The sole is the self-cleaning Crispi Claw model that offers a better grip on brutal terrains and an extended ground surface contact on the toe-heel area to increase traction, complete with a comfortable double density PU shock-absorbing insert for maximum shock absorption. 
This is a boot that is also suitable for plains and valley hunting, thanks to its flexibility and lightness with a weight of just 650 grams. Price is in the 200-230 euro range.