At SHOT Show 2020, the Renegauge line of hunting semi-auto shotguns were the stars at Savage Arms, alongside the 110 Elite Precision Long Range rifles. So far, the young line of 12/76 gauge semi-automatic shotguns with tube magazines consisted of three hunting versions: Field, Turkey (with different camouflage finishes as the Turkey Bottomlands and Turkey Obsession models), and Waterfowl. 
In its native USA, the Renegauge series has been showered with awards, including "2020 Guns & Ammo Shotgun of the Year," "American Hunter Shotgun of the Year," and "NRA Women Shotgun of the Year". According to the manufacturer, the shotguns, which are manufactured in the USA, are based on a gas-operated system with a rotating bolt head, whereby the "D.R.I.V." gas system is supposed to handle all types of ammunition from the mild sporting cartridge to the powerful hunting shell guaranteeing safe cycling without any problems. 
All functional parts subjected to firing stress are made of steel, and the fluted barrel reduces weight by around ten percent. Handling is comfortable thanks to a large loading port and oversized controls. Magazine plugs that limit capacity to two cartridges are available (which, by the way, is also mandatory for waterfowl hunting in the US). The stock has numerous customization options to suit the shooter's individual preferences.
Designed for competition action: Savage Renegauge Competition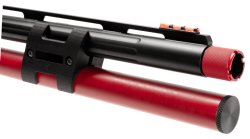 The new match shotgun should appeal primarily to IPSC/action shooters. Weighing about 8.2 lb/3.6 kg, the Savage Renegauge Competition features an extended magazine tube, increasing firepower from 4+1 to 9+1 cartridges. The 24"/610 mm fluted barrel with "Melonite" finish is topped with a steel, ventilated sight rib with "Hi-Viz" fiber optic front sight.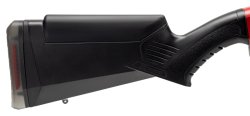 The receiver, tube magazine and "Extended Skeet2 Light Modified" choke have a red Cerakote finish. Oversized controls and a highly accessible loading magazine port are said to provide safe, quick handling during competition stress. The matte black stock, made of durable synthetic material, can be adapted to the shooter's personal preferences by means of intermediate spacers and interchangeable cheekpieces, also for drop and cast. 
In the US, the competition shotgun costs $1959. When the new Savage Renegauge Competition will be available in Europe, at the time of writing these lines was unfortunately not yet determined. We will keep you informed.

---
Find all the news from SHOT Show 2021 on all4shooters/all4hunters.

More information about the Savage Renegauge Competition shotgun can be found on the Savage website.