Marketed with the name of Saiga 12, the semi-automatic shotguns produced by Kalashnikov Concern share the proverbial robustness and reliability of their ancestor. There are different models with different barrel lengths and with hunting, sports and tactical furniture, among which the IPSC version, suitable for competing in the Open division, stands out. What we present here is instead a sporting version that takes the name of Saiga 12 KCC.
Saiga 12 KCC: features and details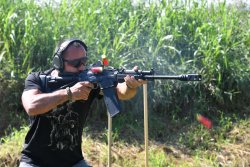 Franco Palamaro, © F.PALAMARO
The Saiga 12 KCC is a semi-automatic 12/76 (Magnum) gauge shotgun with a 17 in/430 mm barrel equipped with a fixed two-port flash hider/compensator.
It is equipped with the classic iron sights of the AK family and in addition it features a Picatinny rail integrated with the receiver cover allowing for the installation of optics and red-point sights. The example we tested in the field was equipped with a Vomz Pilad 1x42 red-dot optic, particularly suitable for this type of gun.
The action of the Saiga 12 is directly borrowed from that of the AK assault rifle, being gas-operated. The receiver is steel with the classic sheet metal cover that ensures a quick and easy access to the bolt unit.
The manual safety control is the usual side lever that characterizes all AK-derived guns. On this version the side lever is equipped with an appendix that makes it easier to operate during intense IPSC shooting stages. For the same reason, the standard cocking lever has also been replaced with a larger cylindrical and checkered control.
The Saiga 12 KCC semi-automatic shotgun is equipped with a foldable stock with adjustable cheek rest. The fore-end is synthetic, as well as the pistol grip. It is a powerful-looking weapon, offering a considerable volume of fire, thanks to the removable magazine with a capacity of five cartridges. Cycling speed is impressive, and in expert hands it is indistinguishable from a full-auto gun. Watch the video for our field impressions.
The recommended retail price is around 2230 euro.
This video has been hidden because of an external service (YouTube) that could potentially collect personal data.Allow video services for the duration of the visitAllow video servicesStop allowing video services