Last chapter Linda Mellor explained us the importance of having a good shotgun coach;. In this chapter, Linda meets Iain MacGregor at Auchterhouse Country Sports, Angus, Scotland to explore the significance of the pattern plate, and look at the point of impact; where the shotgun shoots when you aim and fire it. 
"In coaching, we want to know where the gun shoots, and where the pattern is landing." said Iain.  "The majority of people do not pattern their gun." 

The pattern plate is flat, metal surface, usually 4 feet X 4 feet, mounted onto a board about 4 or 5 feet high, and painted white.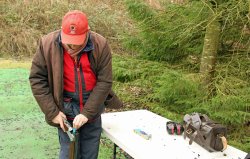 To illustrate, Iain loads the shotgun, and stands 16 yards from the pattern plate, mounts, and fires at the plate. 
Shooting at the pattern plate shows the coach what the gun is doing, and what the shooter is doing. The coach can assess where the pattern has landed, and take basic measurements. 
"The pattern plate is an effective way to look at the gun and the shooter, it is the most basic use of the plate. We are not assessing the pattern."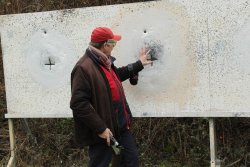 If the shooters sight picture is different to the point of impact, the gun will require some adjustment. "I took my Beretta 682 with an adjustable stock to the pattern plate some years ago, and after shooting three or four times, at the plate, Iain discovered it needed an adjustment," said Linda. 
"Every inch wrong at the plate, is a sixteenth of an inch at the stock.  The gun can look fine in the shooter's shoulder and face, but if it is not shooting straight, you need to stop the session, and the gun needs to go to a gunsmith."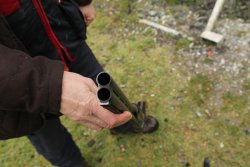 "Shooters will often resist taking their gun to a gunsmith, and are unwilling to get the gun altered because they believe it may impact on the resale value of the gun, but why continue to shoot with an ill-fitting gun?"

If the gun does not fit or if it has been built incorrectly, it can be identified at the pattern plate, and this is hugely important to shooters otherwise you are rehearsing mistakes and learning to shoot badly. Iain said, "Perfect patterning promotes perfect performance."

In the next chapter, Iain and Linda will be looking at common problems.
In this video Linda Mellor is at Auchterhouse Country Sports talking to Iain about the importance of the pattern plate.
Who is our author Linda Mellor?
Linda Mellor is one of Scotland's foremost shooting, fishing and hunting female writers and photographers. She is the product Ambassador for Venator Pro, a premier hunting company and stockist of the European brand Hillman. With a lifetime of countryside experience, Linda's passion, enthusiasm and respect for the outdoors and hunting is explored and shared across her writing and photography. 
For more information on Linda Mellor, please visit Linda Mellor's website, Twitter (LindaMellor) and instagram (linda_mellor).