In recent years Turkey has greatly strengthened its reputation as a country with a vocation for gunmaking, with brands such as Yildiz, Tisas and Derya conquering increasingly important market segments in just a few years. Generally, Turkish guns are characterized by a good quality-price ratio, which makes them particularly appreciated by enthusiasts looking for an inexpensive but reliable "entry level" product.

Hatsan Escort BTS12X, a semi-automatic shotgun with an aggressive and versatile design 
The Hatsan Escort BTS12X is a 12-gauge magnum semi-automatic shotgun with gas-operated bullpup design, fed from  2-, 5- or 10-round box magazines (included with the gun). We would like to remind newbies that the term bullpup refers to rifles and shotguns where the magazine is behind the trigger instead of in front of the trigger and the chamber is located inside the stock. In this way, the gun's overall length is only about twenty centimeters longer than the barrel's length. This is an excellent solution for making "long", but not too long guns that are easy to handle in confined spaces or from inside a vehicle. 
The Hatsan Escort BTS12X features a 18"/46 cm chrome-lined steel barrel fitted with 5 interchangeable chokes (supplied). The charging handle can be easily swapped to adapt the shotgun to one's dominant hand or received training. The tactical stock in bullpup configuration is made of polymer, with an integrated pistol grip, height-adjustable cheek rest, and soft rubber recoil pad for recoil absorption. On the top of the receiver we find a built-in Picatinny rail on which iron sights and optics, or a carrying handle with built-in iron sights (both adjustable), can be mounted. In the package we also find a flip-up rear sight and front sight set. On either side of the handguard are two additional removable Picatinny rails on which accessories such as lasers and tactical flashlights can be mounted. The muzzle cover, aesthetically similar to a sound suppressor, protects the barrel and locks the handguard in place.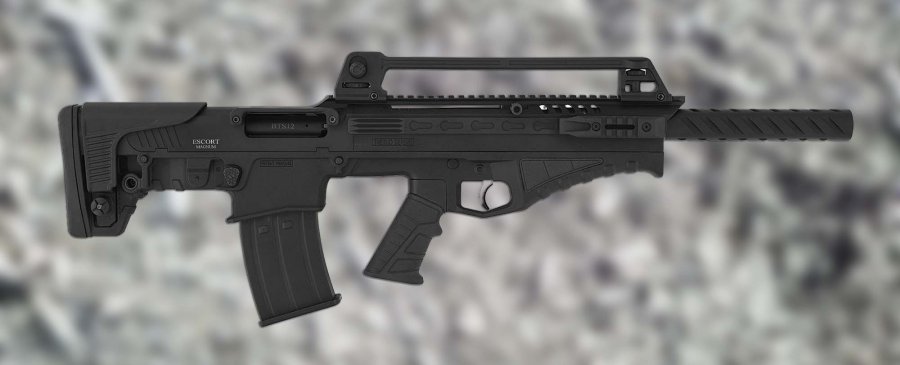 In a gun intended for home defense, aesthetics definitely has a deterrent effect on the possible intruder, and The Hatsan Escort BTS12X with the bronze-colored Cerakote finish is sure to strike fear into anyone who finds themselves staring at the wrong end of the gun. The retail price of the Hatsan Escort BTS12X is 659 euros (price may be different in your country due to VAT and import duties).
Hatsan Escort BTSX12 specs and price

| | |
| --- | --- |
| Model: | Escort BTSX12 |
| Gauge: | 12 Magnum |
| Action: | Semi-automatic, gas-operated |
| Barrel:  | Chrome lined, steel, 460 mm long |
| Stock: | polymer bullpup design with built-in pistol grip |
| Magazine Capacity:  | 2, 5 or 10 rounds |
| Sights: | integrated into carry handle, additional flip up set |
| Picatinny Rails:  | One on the receiver's top, two on the handguard sides |
| Overall Length:  | 91 cm |
| Weight: | 3,750 g |
| Price: | 659 euro |