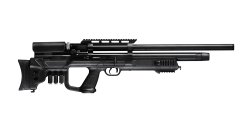 Manufactured in Turkey by the Hatsan Arms Company, distributed exclusively in north America by Hatsan USA and also available limitedly in some European Countries (most notably in Poland), the Gladius is a bullpup, pre-compressed pneumatic (PCP) air rifle built around an ambidextrous, advanced polymer chassis and conceived to meet the tastes and the needs of beginners and expert airgunners alike.
An ambidextrous design, the Hatsan Gladius features an adjustable buttpad and elevation-adjustable cheekpiece, a storage slot in the slot to keep up to three replacement magazines always ready, and a smooth, effortless and intuitive side-mounted lever action.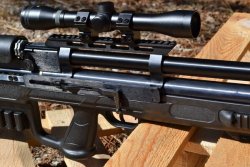 The Gladius is also Hatsan's first adjustable-power airgun, featuring a dial that allows the shooter to adjust manually the velocity and power level to six different settings depending from the intended use − plinking and training, competition shooting, hunting or pest control.

Such a feature also allows the shooter to minimize the shots-per-fill ratio of the detachable, 200-bar/2900psi fill, 225cc air cylinder with built-in pressure gauge: depending from the selected power setting, the Hatsan Gladius bullpup air rifle can provide anywhere between 35 and 90 shots per fill.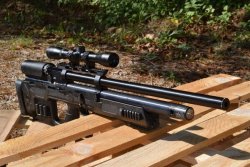 The Hatsan Gladius air rifle is available in 4,5mm/.177 and .177 Long caliber, feeding through 10-shots detachable rotary magazines and offering a maximum muzzle velocity level of 326m/s (1070 fps) or 362.7m/s (1190 fps); a 5,5mm/.22 and .22 Long caliber variant also exist, using 10-shots magazines and offering a maximum muzzle velocity level of 295,6m/s (970 fps) or 326m/s (1070 fps); last, its 6,35mm/.25 and .25 Long caliber variants feed through 9-shots magazines, and offer a muzzle velocity level of 265,1m/s (870 fps) or 295,6m/s (970 fps).
A long barrel version will also be made available in 2016, featuring an extended barrel and thus increasing both velocity, accuracy, and energy of the pellet upon impact.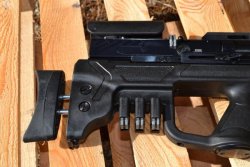 Other features of the Hatsan Gladius PCP bullpup air rifle include such as the company's own, fully adjustable two-stage "Quattro" trigger; an anti-double feed system preventing more than one pellet to be loaded into the precision-rifled barrel at any given time; a quick-fill nozzle and air cylinder discharging cap; and Hatsan's patented anti-knock system that prevents gas wastage should the Gladius air rifle be knocked or bounced.
Last, but not least, the Hatsan Gladius air rifle also features the Company's proprietary QuietEnergy Technology – an integrated sound moderator that dapmens the noise signature of the rifle by well over 50%, perfect for backyard shooting in urban areas.
The Hatsan Gladius PCP air rifle is sold in a durable hard-plastic case and comes issued with four magazines; no sighting system is issued from factory, but the top MIL-STD-1913 "Picatinny" rail allows the installation of any aftermarket aiming device. The MSRP for the Hatsan Gladius PCP air rifle is set at $1,199.99 for the standard barrel version and at $1,299.99 for the long barrel version, although the street price can be as low as $899.00, and several distributors already offer combo packages including scopes and loading pumps. The limited European distribution sees, as of today, its price ranging between €750 and €850 (approximately), varying slightly from Country to Country.