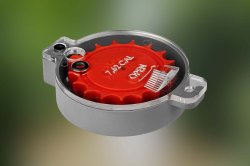 The American branch of Hatsan has officially introduced the Blitz, the most recent and unusual of the Pre-Charged Pneumatic (PCP) air rifles manufactured by the Turkish company. The Blitz is a .30 caliber (7.62 mm) gun with a 16-round spring rotary magazine, but it is also available in .25 caliber with a 19-round magazine and in .22 caliber with a 21-round magazine.
Hatsan Blitz: a unique PCP air rifle
The unique feature of the Hatsan Blitz is its semi/full auto selective firing mode.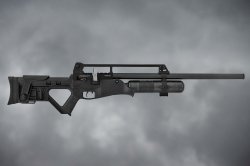 The shooter can easily switch between either mode with the flick of a switch. The gas-operated system requires no battery power and is capable of shooting at a high rate of speed. This new rifle features a large 250 bar carbon fiber air tank with a capacity of 580 cc that can provide over 100 shots in semi-automatic or full-auto shooting mode. Two 16-shot spring rotary magazines are included, and the loading key when not in use is located in a special storage space in the stock. The .30 caliber spherical pellets exit the Hatsan Blitz muzzle at a nice velocity of 730 fps (about 220 m/sec) with an energy of 53 ft-lbs equal to about 71 joules. The rifle has a color-coded pressure gauge that allows you to immediately check tank pressure level.
Tacticool stock and other interesting details

The synthetic stock has a "tacticool" look but also boasts excellent ergonomic features and absolute weather resistance. The integrated pistol grip has non-slip rubber panels to facilitate a safe grip in all circumstances. The height-adjustable cheek rest ensures proper sight alignment, and the elevation and angle adjustable recoil pad allows you to easily adapt the stock to your preferences. The stock is also equipped with sling mounts.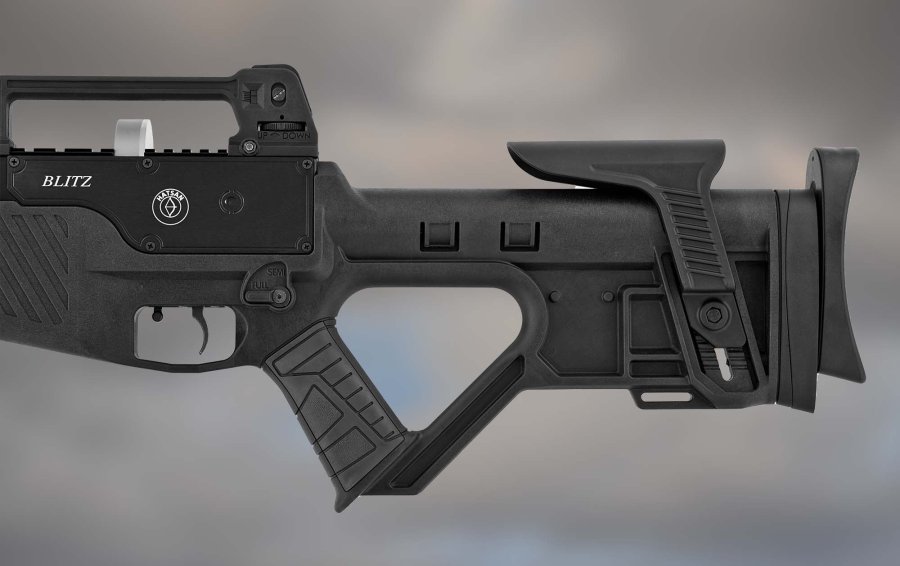 The Hatsan Blitz has a carrying handle that supports the adjustable open sights – they can be removed to make room for conventional optics or red dots, that can be fitted on the integrated 11 mm dovetail or 22 mm Weaver type mounts. Three Picatinny accessory rails surround the air cylinder for maximum flexibility in accessory mounting options.
The question arises: what's the point of a full-auto PCP rifle? The simple answer is that in the US market, to which it is aimed, many could buy it just for the fact that it exists and is definitely fun to use in recreational shooting. Surely it's also a clever way for Hatsan to claim a primacy in the now very crowded sector of large caliber PCP air rifles.

Hatsan Blitz PCP air rifle specs
| | |
| --- | --- |
| Manufacturer: | Hatsan - Turchia |
| Model: | Blitz |
| Type: | Pre-Charged Pneumatic air rifle |
| Caliber: | .30 (also available in .22 and .25) |
| Barrel Length: | 23"/58.5 cm |
| Magazine: | 16-shot rotary magazine |
| Shooting Mode:  | Semi-automatic, full-auto |
| Working Pressure: | 250 bar |
| Number of Shots with one Tank: | 100 |
| Stock:  | Pistol grip, polymer |
| Overall Length: | 45.2"/114 cm |
| Weight: | 8.8 lb/4 kg |
| Price (in the USA):  | 999.99 USD  |