The Austrian-based Steyr-Mannlicher company expands its sporting rifles line with the launch of a rimfire rifles duo at the 2016 edition of the IWA expo in Nuremberg, Germany. 
The outline and the technical design of the Steyr Scout Survival RFR are both reminescent of two rifles that our followers will be all too familiar with: while the black synthetic stock reminds that of Steyr's own bolt-action Scout rifle, the super-quick straight-pull action is patterned after another Austrian target shooting rifle – the ISSC SPA straight-pull action rifle. 
The Steyr Scout Survival RFR is sold along with a survival knife and its black polymer sheath, and features a top MIL-STD-1913 "Picatinny" rail and a 5-rounds or 10-rounds magazine. The Steyr Scout Survival RFR straight-pull rifle will be available in three calibers – .17 Hornady Magnum Rimfire, .22 Long Rifle and .22 Winchester Magnum Rimfire – and its manufacturer's suggested retail price has been set at €576,00.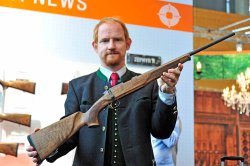 The Steyr Zephyr II bolt-action rimfire rifle is more conventional in outline and design, with its five-rounds magazine and its classic wooden stock with checkered grip and handguard. Thre Steyr Zephyr II will be available in three calibers – once again, those are .17 HMR, .22 Long Rifle and .22 WMR. The projected retail price of the Steyr Zephyr II will be made public upon release of the rifle to the international markets, which is scheduled for Autumn 2016.