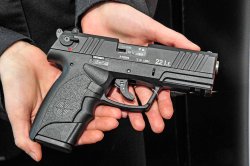 Steyr-Mannlicher's new pistol for the year 2016, first showcased at the IWA expo in Nuremberg, is dubbed the RFP, and is a semi-automatic, hammer-fired, rimfire handgun specifically conceived for sport shooting.
The Steyr-Mannlicher RFP is built around a frame that reminds, both in design and in features, the one used by the M-A1 line of semi-automatic centerfire handguns marketed by the Company for service and defensive purposes. The slide is manufactured out of metal, and hosts fixed sights.
Unlike the M-A1 line of pistols, the RFP comes with an external hammer and a slide-mounted manual safety. Chambered for the popular .22 Long Rifle rimfire cartridge, the Steyr-Mannlicher RFP pistol is extremely lightweight and user-friendly, and hosts ten rounds in a detachable single-stack magazine.