For firearms connoisseurs Savage Arms from Westfield, Massachusetts, one of the world's largest rifle manufacturers, especially in recent years has grown impressively, and today shines like never before with a modern product offer. At the beginning of July 2019 it was announced that the powerful Vista Outdoor Group had sold the company to a group of investors led by Savage Arms President and CEO, Al Kasper. With this classic "management buyout", the success story of the traditional company, which has been in existence for 125 years, was continued.
How the Savage MSR 15 Competition is built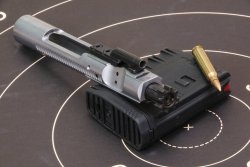 The rifle presented here is a real eye-catcher and is available in the standard caliber .223 Remington as well as in the young and fast .224 Valkyrie. The Savage MSR 15 Competition in .223 Remington weighs only 5.8 lb/2630 g and is perfect for dynamic shooting disciplines. The lightweight is also due to the 18"/457 mm Proof Research match barrel with carbon fiber wrapping and 1-8" twist.
The Savage MSR 15 Competition is built around forged aluminum main components (upper/lower receiver) that are matched with minimal tolerances. A typical feature of the MSR series is the charging handle on the left side, in addition to the AR-typical T-shaped charging handle on the back of the receiver, which is much more comfortable and intuitive to use depending on the situation. The gas block with direct gas impingement and multi-lug rotating bolt head features a bolt carrier with a nickel-boron coating, which significantly improves the sliding properties and thus functional reliability. Additionally, the rifle can be cleaned much better, as we also found out during our test.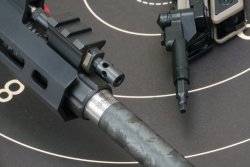 The very rugged adjustable gas block with top Picatinny rail allows the best possible fine tuning for different cartridge loads, especially when experienced competition shooters also adjust the buffer weight of the recoil spring assembly accordingly. Here, an extremely neutral shooting behavior without noticeable recoil or muzzle flip can be achieved. This way the rifle can also be better adapted to the use of a suppressor, of course. An open sight can be placed on the gas block, too. This is a big advantage compared to other AR rifles, because iron sights can often only be mounted on the front of the hand guard, and If pressure is exerted on the hand guard, the sighting line shifts. This can't happen with the Savage MSR Competition because the gas block has no points of contact with the free-floating M-LOK light alloy handguard.
Topping off the Savage MSR Competition is a factory fitted, finely tuned two-stage trigger with a measured pull weight of 3 lb/1360 g and crisp characteristics. The design of the controls in the form of the safety lever and magazine release are designed to be operated from both sides of the gun. Only the slide stop lever is available on the left side of the receiver solely. The magazine well flare, which can be removed if necessary, just like as the selector and the sling mounts is made of red anodized aluminum, and makes magazine changes more fluid and faster.

Practical test: how the Savage MSR 15 Competition performs on the range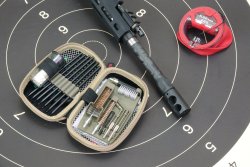 Equipped with a Weaver premium MSR 34mm mount and a Bushnell Forge 1-8x30 scope that fits this type of rifle well, we took the Savage MSR 15 Competition to the shooting range. A short side note: the 34mm main tube scope with – in our case – illuminated "German 4i Ultra" reticle has a lot of power for 729 euro. In spite of the scope having comparatively modest maximum magnification intended for dynamic disciplines (or even fleeting shots on a driven hunt), we achieved good accuracy results at 100 m, which underlines that this rifle is also suitable for longer distances. 
By using ten different ammunition types with a bullet weight ranging fro 40 to 77 grains, we achieved groupings below the 20 mm mark with three test loads. Two factory cartridges with 11 mm and 12 mm groups were significantly closer to the 10 mm mark. The factory well-adjusted two-stage trigger supported us in our precision work. Although it has a slightly longer reset travel than the single-stage triggers typical for dynamic disciplines, it's on the other hand a very good choice for precision shooting – even in classic static disciplines.
Savage MSR 15 Competition – Specs and price
| | |
| --- | --- |
| Model: | Savage MSR 15 Competition |
| Price: | 2909 USD  |
| Operating System: | direct impingement gas-operated, with rotating multi-lug bolt head |
| Barrel: | 18"/457 mm Proof Research match barrel with 1-8" twist and 1/8x24 UNEF muzzle thread and muzzle brake |
| Stock: | 6-position Magpul CTR, free-standing Hogue pistol grip, free floating light metal M-LOK handguard |
| Magazine: | plastic box magazine with a capacity for 10 cartridges |
| Trigger: | two-stage match trigger with measured pull weight of 3 lb/1360 g |
| Safety: | ambidextrous 2-position, acting on trigger |
| Overall Length: | 89.5"/975 cm |
| Weight: | 5.8 lb/2630 g |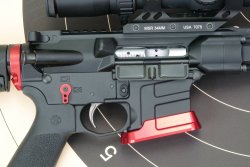 Our test verdict on the Savage MSR 15 Competition
At a proud price of 2909 USD, you naturally have high expectations. But these are fully met by the Savage MSR Competition "out of the box". With this standard lightweight semi-automatic rifle, the traditional US manufacturer Savage Arms is putting on something of a show, as it leaves nothing to be desired in terms of workmanship, features, handling, functionality and accuracy. 
The price is therefore quite reasonable.