New calibers for the popular AR-15 semi-automatic rifle platform appear on the market at regular intervals, promising more performance than the globally dominant standard .223 Remington (5.56x45 mm) caliber or designed for special tasks. Depending on the cartridge concept and bullet diameter, only the bolt head and magazine need to be replaced, otherwise more complex conversions including the installation of a new barrel are required. 
The 6 mm ARC cartridge developed by Hornady in detail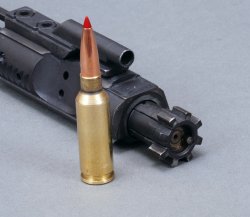 With cartridge dimensions compatible with standard AR-15 actions and magazines, the young 6 mm ARC outperforms the 5.56x45 mm NATO/.223 Remington in ballistics and, according to the manufacturer, is comparable to a 7.62x51 mm NATO/.308 Winchester in terms of performance level with half the recoil, although the newcomer is said to have advantages in the long range range thanks to its higher BC values. Incidentally, the groundwork for this was probably done by U.S. rifleman Robert Whitley with his older AR-15 6 mm AR wildcat cartridge. Whitley was dissatisfied with the wind-sensitive .223 Rem. in his high-power rifle competitions at ranges up to 600 yards. However, AR-15 match rifles with barrel lengths of up to 26" are used in these matches to maximize the ballistic performance capabilities of the 6 mm AR.
In this caliber group alone, by the way, there are numerous AR Wildcat calibers such as the 6 mm AR Turbo 40 Improved, 6 mm Rat and FatRat, or 6 mm Grinch, to name a few. Hornady engineers and ballisticians may well have picked up Whitley's work to perfect it. In the new 6 mm ARC, the 6.5 Grendel (but alternatively also the 7.62x39, .220 Russian, 6 mm PPC) serves as the mother case that is modified into the .243"/6 mm caliber. Hornady decided to use the 6.5 Grendel as the base case because there are already enough suitable bolt heads and magazines on the market. Thus, an AR-15 conversion is comparatively quick and uncomplicated, which simplifies the market entry for the new cartridge. Bolts in 6.5 Grendel did not have a good reputation in the early days, as one repeatedly heard of broken extractors due to the necessary larger bolt face. However, these initial problems when the 6.5 Grendel was introduced to the market around 2003 are now a thing of the past. The ideal barrel length for AR rifles is considered to be 18"/46 cm because it offers the best compromise between power output/bullet velocity and handling-friendly weapon dimensions, even if a silencer is also mounted. From 24"/61 cm or even 26"/66 cm barrels, the 6 mm ARC is equal in performance to the older, more popular 6 mm Norma BR, the latter being impossible to fit into AR-15 actions because of its larger case base. As you would expect from the US family-owned company from Nebraska, Hornady offers factory ammunition, bullets and die sets in the promising 6 mm ARC caliber, and of course you can already discover sufficient loading data on the web. Recommended twist rate is 1-7.5" and bullet weights range from 58 to 108 grains. Up to 300 meters, even a light 70 grains match bullet is absolutely sufficient, which the highly accurate 6 mm PPC has always been able to prove. 

6 mm ARC: three factory cartridges at Hornady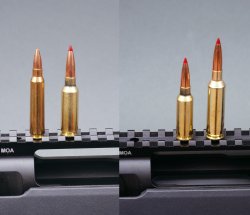 Hornady offers three different 6 mm ARC factory ammunition grades at launch in the form of the 108-grain ELD-Match (initial velocity 838 m/s, high ballistic coefficient of G1 .536 from 24" test barrel), 105-grain BTHP Black (identical velocity with identical test barrel length, BC value .530) and 103-grain Precision Hunter ELD-X (853 m/s from 24" test barrel, BC value .512). 
In addition to these factory cartridges, we also had the appropriate Hornady bullets available for handloads. When it comes to propellants, you should certainly opt rather for slow powder types such as Hodgdon CFE223, or Hodgdon LEVERevolution, for example, with which you can achieve the highest velocities. 
But other powders such as Lovex D073.5 for lighter projectiles or Lovex D073.6 for heavier ones should also be a good choice.
The test rifle: Savage 110 Tactical
The Precision Rifle Series (PRS) is also gaining more and more importance. Here, rifle shooters operate in long-range courses with multiple targets under time pressure. However, this sport is no cheap pleasure in terms of complete equipment and ongoing maintenance costs for ammunition. To lower the hurdles for potential newcomers, the Production Class was introduced with defined rules and price limits as well as match formats with a maximum of 80 shots. However, according to reports, the class is not as well received as hoped because most shooters want to start in the Open Class right away. Nevertheless, the Savage 110 Tactical in 6 mm ARC presented could be a good choice for the PRS Production Class, although we would then probably go for the more powerful 6 mm Creedmoor, which is very popular in those circles. The rifle, with its proven 110 bolt action, features a button-rifled 18"/46-cm barrel with 1-7.5" twist, fluting and 5/8 x24 UNEF muzzle thread. The AccuFit synthetic stock with aluminum chassis system bedding allows for custom fine-tuning, with spacers for length-of-pull adjustment and interchangeable cheek rests of varying heights.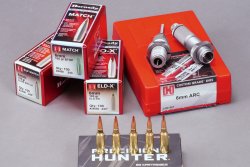 The AccuTrigger direct trigger can also be adjusted for pull weight, although the trigger group on our test gun was factory-adjusted to less than 1,100 grams. The AICS-style plastic box magazine on our test gun has a capacity of eight rounds, and it sat in the action with very little tolerance. Other features such as the oversized, tapered knob on the bolt handle, which allows for fast repeating in a wide variety of firing modes, or the screw-on optics rail with 20 MOA pre-tilt on the top of the action are pleasing and a perfect fit for this sleek repeater. For 1,199 euros, the shooter definitely gets a well-equipped rifle that knows how to impress in workmanship, function and shooting performance.
On the range with the Savage 110 Tactical in 6 mm ARC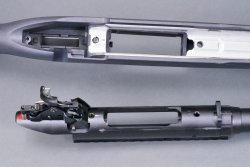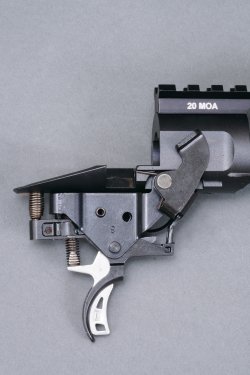 Unfortunately, the test was only on the 100-meter short course, for which the rifle in 6 mm ARC was outfitted with Mark 4 mount rings and the Mark 3 HD 8-24x50 scope from U.S. optics giant Leupold, as well as an UTG bipod. A dozen loads, three factory and nine handloads, were fired. Medium velocities of up to 800 m/s were achieved from the 18" barrel, and the shooting feel was very pleasant even with this comparatively light rifle. With almost half of the loadings, groups of less than 0.78"/20 millimeters could be produced. We achieved the top group of 0.47"/12 mm with the Hornady 108-grain ELD match factory ammunition. With the same bullet, we managed a 0.59"/ mm group with the handload of 25.5 grains of Lovex D073.5. Also establishing itself in the Top 3 was the hunting-grade Hornady Precision Hunter factory ammunition with 103-grain ELD-X projectile and a 0.70"/18 mm group. However, it must be said at this point that the Lovex D073.5 is not the perfect choice for this cartridge, as we did not quite match the velocities of the factory rounds. The Lovex D073.6 would certainly have been more interesting here, but unfortunately it was not available to us. But we were able to achieve practically the velocities with the D073.5 that Hornady also achieved with their factory ammo. All in all, we liked the cartridge very much and will certainly try it out again from an AR-15 in the future.
Savage 110 Tactical in 6 mm ARC specs and price
| | |
| --- | --- |
| Model: | Savage 110 Tactical in 6 mm ARC |
| Action: | Bolt-action with two locking lugs that lock into the action  |
| Barrel: | 18"/457 mm long, fluted with1-7.5" twist and 5/8x24 UNEF muzzle thread |
| Stock: | Gray AccuFit synthetic stock with LOP and cheek piece height adjustment options. |
| Magazine: | AISC-compatible box magazine with a capacity of 8 cartridges |
| Trigger: | Adjustable AccuTrigger; measured trigger pull weight: 1,078 grams |
| Safety: | Two-position safety acting on the trigger |
| Length: | 41"/104 cm |
| Weight: | 8.2 lb/3,72 kg |
| Price: | 1,199 euro |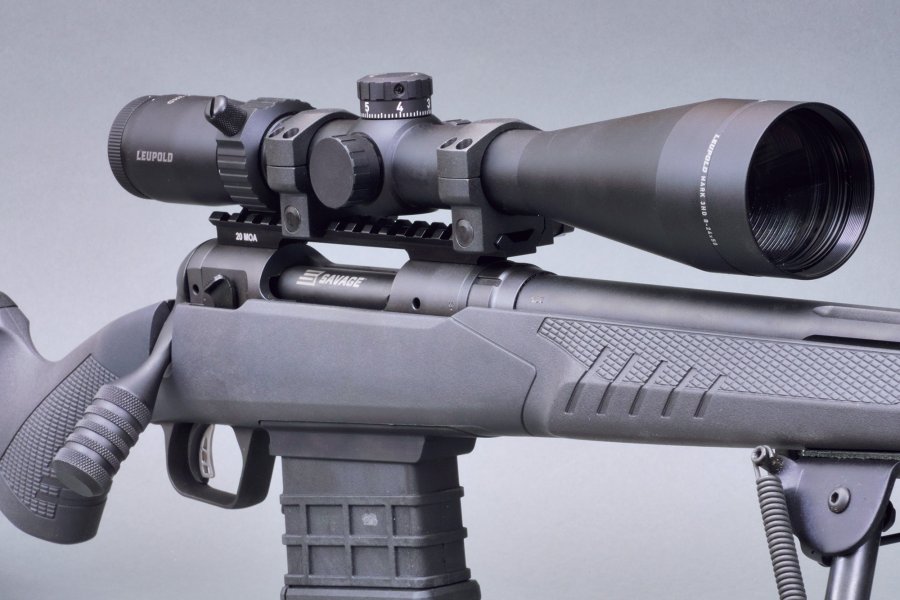 Our conclusion on the 6 mm ARC Savage 110 Tactical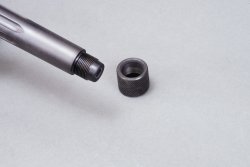 The 6 mm ARC is a very interesting caliber, which is at its best in "Black Rifles". After all, you can achieve the same performance with an AR-15 in the long range range as with a 6 mm Norma BR. The situation is different for bolt-action rifles, however, where there is even more competition in the form of the 6 mm PPC for precision shooting, the proven .243 Winchester for hunting, or the more powerful 6 mm Creedmoor for PRS and long range. According to reports, there are nevertheless an increasing number of PRS shooters who prefer the ARC to the Creedmoor because it has less recoil (maximum magnification on the scope with sufficient field of view for hit or possible miss observation). But especially in the AR-15 platform for shooting at longer distances, the 6 mm ARC cartridge is undisputedly the top performer because of its overall characteristics.