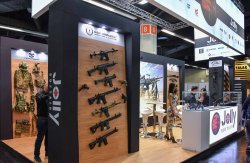 Jolly Softair is a company based in San Marino, in the Italian peninsula, that distributes airsoft replicas, BBs and accessories, maintaining a prestigious position in this extremely lively market segment that involves both collectors and "wargame" practitioners. Among the various brands distributed by Jolly Softair we find Ares, a company founded in 2010 that manufactures technologically advanced airsoft replicas ranging from pistols and light machine guns to refined sniper models.

Ares Amoeba Striker AS 03, a ultra-compact "bolt action" carbine

Among the many models of airsoft replicas on display at the Jolly Softair booth, one in particular drew our attention: a particular version of the Striker AS 03 bolt-action rifle in the Amoeba line by Ares.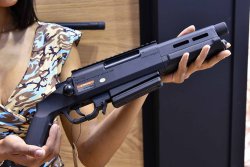 The Amoeba Striker project envisages the possibility of combining a very high number of components such as stock, cheek piece, upper receiver, barrels of different lengths in order to assemble your own sniper rifle. There are also ready-assembled models such as the Striker AS 03 which stands out for its very compact size given by an all-steel very short barrel (the actual length is still top secret). The carbine is a single shot "bolt action" repeater with the piston being loaded by manually closing of the bolt, also made of metal. The magazine has a capacity of 45 plastic 6 mm BB pellets. The receiver is ABS plastic. The pistol grip is also made of synthetic material, with a saw-handle design and semi-anatomical grooves that improve grip. The now unavoidable Picatinny rail allows for the mounting of a conventional or red dot optic on the replica. It is a very particular type of airsoft gun, very interesting from a technical point of view and we can't wait to try it in the field, maybe equipped with a low profile tactical optic.