The role of sniper in airsoft is more a state of mind than a necessity. Since the replica tested here have a maximum energy limit of 1 joule, its effective range is the same of any other airsoft gun. If anything, it's the possibility of using a scope, as well as attitude and playing technique, that makes a difference.  
Ares M40 A6 replica: features
Nonetheless, for those who love to play the role of Chris Kyle in airsoft, or simply want to have fun in their backyard shooting with an extremely realistic and accurate gun, the market offers specific replicas.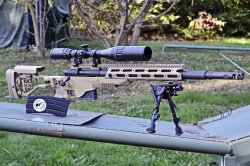 The Ares M40 A6 exactly replicates a modern bolt-action sniper rifle, i.e. the gun is operated by manipulating a bolt whose motion backwards and forwards not only allows the chambering of 6mm spherical pellets but also cocks the piston that fires them. In practice, this replica mostly made from metal doesn't require any type of external power supply, although according to the technical specs you can upgrade to a CO2 power supply (available on the Web for about 90 USD) that allows for the use of classic disposable CO2 cartridges – with one cartridge you can shoot about 100 BBs.
The Ares M40 A6 features a 19.7" / 500 mm barrel, with an overall length of 41.7" / 1060 mm with the stock extended, and 31.9" / 810 mm when folded.

The stock allows you to finely adjust the height of the cheek piece and the length of the recoil pad, so as to adapt it to the size of the user. The pistol grip features a non-slip rubberized gripping surface. The lever-type safety is on the receiver, to the right of the bolt, and is very easy to operate without having to change the grip position. The trigger proved to be very good, light and predictable as essential on a sniper rifle. The metal magazine has a capacity of 45 6mm BB pellets.
The Ares M40 A6 is shipped without any sights, but the very long Picatinny rail that runs along the receiver and the handguard (measuring a full 19.3" / 49 cm) allows any type of optics to be mounted, from traditional ones to red point sights.
For our test we fitted a specific airsoft optic, the JS Tactical AOC 3-9X40 with MIL-dot type red or green illuminated reticle, certainly consistent with the intended use of the replica.
It only remains to invite you to enjoy the video we had the opportunity to shoot at the CQB Arena in Vanzaghello (Italy), a really well-conceived  and well-maintained indoor shooting range. Follow "Wolf Instructor" and Otto to discover all the details of this interesting replica that proved to have all what it takes to fight on the battlefield. 
Ares products are distributed in Italy and other countries by Jolly Softair.
Video: Ares M40 A6 replica airsoft
This video has been hidden because of an external service (YouTube) that could potentially collect personal data.Allow video services for the duration of the visitAllow video servicesStop allowing video services
Ares Airsoft M40 A6: technical specs
| | |
| --- | --- |
| Manufacturer: | Ares Airsoft |
| Distributor: | Jolly Softair |
| Model: | M40 A6 |
| Power source: | spring-loaded |
| Intended use: | airsoft snipering |
| Caliber: | 6mm BB |
| Magazine: | metal, 45 Bbs capacity |
| Barrel lenght: | 19.7" / 500 mm |
| Stock: | aluminum, adjustable and foldable |
| Overall length: | 41.7" - 31.9" with folded stock (1060 - 810 mm) |
| Weight (kg): | 121.7 oz / 3450 g |
| Finish: | matt black or sand-coloured |
| Sights: | none, Picatinny rail |
| Price: | about 600 euro (price may vary in your country due to VAT and import duties) |