Rapid-firing weapons always played an important role in military tactics. Even before the advent of automatic firearms, magazine-fed lever action rifles provided a decisive increase in firepower if compared to the single-shot military standard rifles of their times; this was first realized during the American Civil War, and later during the Turkish-Russian war in the Balkans – where the use magazine-fed lever-action Henry and Winchester rifles took a devastating toll on the Southern "rebels" and Russian soldiers, mainly armed with slow-firing single shot weapons. The invention of smokeless propellants and the subsequent rise of self-loading and automatic weapons put a great emphasis on the mechanisms designed to store and feed ammunition to these ever-hungry weapons, capable of expending the normal content of a contemporary rifle magazine (5-6 rounds) in a fraction of a second.
This review will discuss only magazine fed systems, leaving belt-fed systems for a separate article.
From the personal archives of Maxim Popenker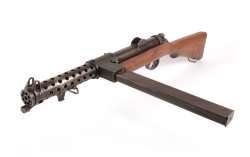 From the personal archives of Maxim Popenker
Box magazines
The box magazine is one of the oldest cartridge feeding systems in history. Earlier forms of box magazines were used on manually operated rifles including classic designs such as the Mosin 1891 (fixed, single stack magazine), the Mauser 1898 (fixed, double stack magazine) and the Lee-Enfield (detachable, double stack magazine). Top-mounted, detachable box magazines also were used on the first rapid-firing manually-operated weapons such as Gatling or Nordenfeld.
Normally, box magazine holds cartridges side by side, in single or double (staggered) rows.

Practical capacity of box magazine is limited by several factors, including magazine spring strenght, magazine body length (if too long it may hinder the handling of the gun itself) and reliability requirements (the longer the magazine, the higher the internal friction and chances of its body being bending, denting or otherwise taking damages from rough handling). In practice, box magazines for machine guns firing rifle cartridges are usually limited in capacity to 30 rounds – basically the same average capacity of modern-day assault rifle magazines.

Some 40-round box magazines were designed for certain interwar light machine guns, but found little acceptance. Box magazines for smaller and lighter intermediate cartridges also rarely exceed 30-round capacity, with 45 rounds being practical limit.

For pistol-caliber weapons, most notably submachine guns, practical magazine capacities grew as high as 50 rounds (mostly for some derivatives of the Bergman-Schmeisser MP.28 such as British Lanchester Mk.1). However, even with much lighter pistol ammunition typical box magazine capacity for submachine guns varies between 30 and 35 rounds, with few 40-round aberrations listed through the history.
LMO - Long Mountain Outfitters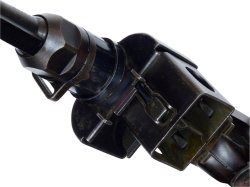 From the personal archives of Maxim Popenker
Twin box magazines
Since the capacity of a single box magazine is limited by practical considerations, some designers attempted to mate two or more magazines into single units. The easier way to do so was to tape magazines together, side-by side, to make reloads as quick as possible.

However, some designers took this idea further, producing twin magazines which consisted of two adjacent boxes, each with its own independent spring, follower, and mouth – all permanently assembled into a single unit. Such magazines could be used only in guns with a specialized housing that allowed the quick position change of the twin magazine so that the empty compartment could be swapped easily with the full one.

One of the earliest attempts in this sense was carried on by American designer George Hyde with his M35 submachinegun – dated, that is, to 1935; in this gun, the twin magazine could be slid sideways in its housing to align one of the two compartments with the barrel and bolt. A similar concept was implemented in the Ballester-Molina submachine gun – also known as "La Criolla" and manufactured shortly before World War II by HADFDASA in Argentina – where the dual magazine could tilt sideways in an enlarged housing to align one of the compartments with the barrel.

During World War II, German manufacturers tried to imitate this approach by using a dual magazine housing that could slide across the gun to quickly shift between two independent magazines attached to a weapon at one time. Said setup saw some use in submachine-guns such as the Erma Mp.40/I and Erma Mp.44 (an experimental development not related with the famous Sturmgewehr).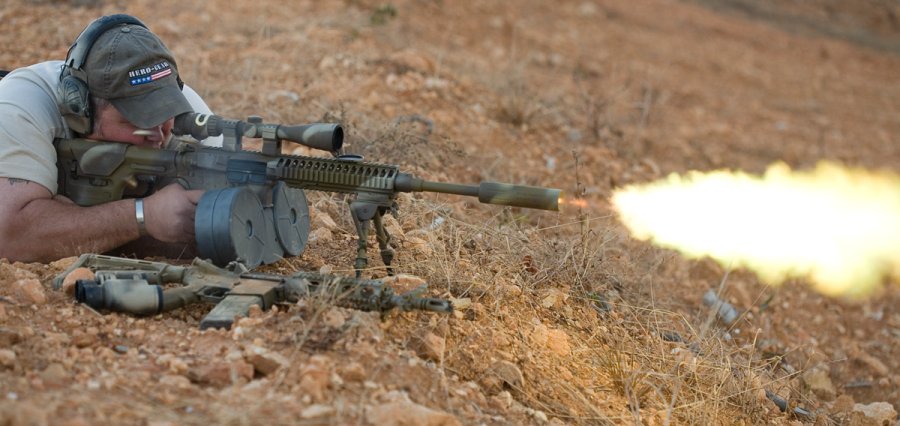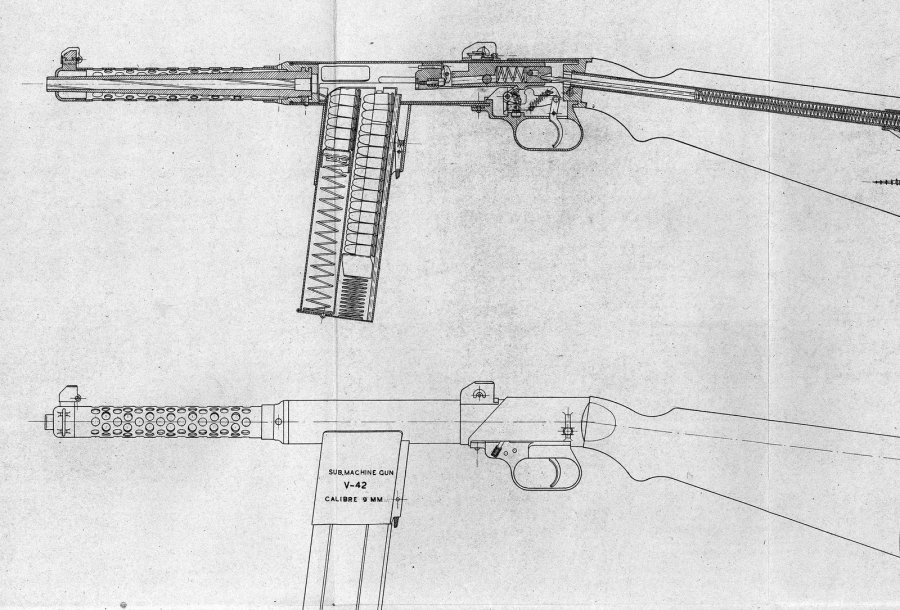 From the personal archives of Maxim Popenker
From the personal archives of Maxim Popenker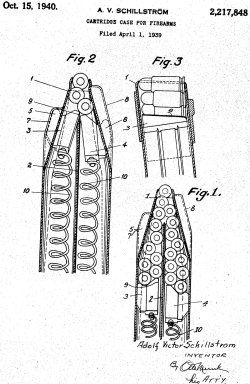 From the personal archives of Maxim Popenker
Quad-stack box magazines
While twin box magazines, as described above, offer increased capacity, they still require the shooter to deliberately switch from one compartment to another. The next logical step in the path of firepower enhancement, in this case, was to merge two compartments into one at the top.

One of the earliest successful attempts to develop a two-in-one box magazine dates back to late 1930s, when Swedish designer Schillstrom developed and patented a new type of magazine: at its bottom, it was designed as two separate box magazines mated side by side, sharing a common inner wall. At the top, both magazines were merged into a wedge-shaped "exit" where cartridges from two compartments were gradually squeezed from four rows into two, and then into one, before being placed under the feeding lips of the magazine.

This allowed for a relatively large capacity of 56 cartridges, at the cost of increased complexity, price, and significant effort required to load cartridges against the pressure of two springs and friction forces, produced inside the wedge-shaped top part of the magazine. Originally issued with Swedish-made M37/39 submachine guns (license-built Finnish Suomi M/31), this design was also adopted by Finnish army in a slightly reduced 50-round version.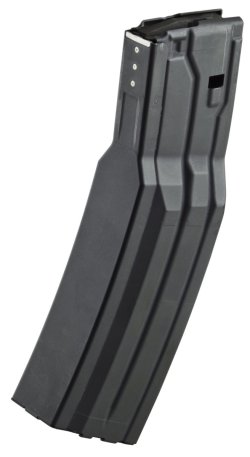 Later on, several improved versions of the basic design were produced in several Countries including Italy, Russia and the USA. In Italy, it was used for 50-round four-stack magazines designed for SITES M4 "Spectre" submachine gun. The key difference between the Swedish "coffin" magazine and some later similar designs is that the Suomi's quad-stack magazine has to squeeze four cartridge rows into one, while most later designs manage to go from four rows into two, thus making magazines easier to load and more reliable.

Still, quad-stack magazines found very little acceptance – a 60-round versions, made of polymer, was recently adopted in Russia to feed 5.45mm AK-74, RPK-74 and other compatible weapons, and 60- and 100-round versions made of aluminum are produced in USA by Surefire to feed STANAG-compatible 5.56mm weapons. Popularity of the quad-stack magazines is greatly limited by their complexity and cost – for example, one Surefire 60-round magazine retails at about $120; same amount of money can buy six to ten standard 30-round magazines.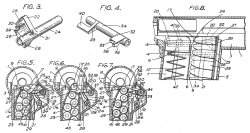 From the personal archives of Maxim Popenker
Tandem magazines
Another way to couple two or more box magazines into a single unit is known as the "tandem" approach. In this design, independent separate box compartments are mated one behind the other in a single casing. One of earliest weapons to use such design was the experimental Vesely V-42 submachine gun, designed in UK in 1942.

Its magazine had two compartments: when fully loaded and attached to the gun, the rear ammunition stack would be held down by a special latch below the bolt; once the front compartment is exhausted, its follower would release the latch making the cartridges stored in the rear compartment rise to the feed path. A similar design was later tried in one of the prototypes submitted to the remarkably unsuccessful US SPIW program in the mid-1960s. Given its complexity, is no wonder if the "tandem" approach never went past any prototype stage.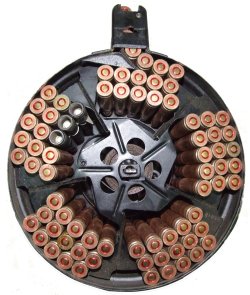 From the personal archives of Maxim Popenker
Drum magazines
The drum magazine approach is quite old: one of its earlier versions, known as the Accles drum, was used in several variants of the Gatling gun design in the late 19th Century. In drum magazines, cartridges are located side by side in a circular container with bullets pointing more or less parallel to its axis.

The simplest way to explain how drum magazine works is to think of it as a box magazine bent sideways into a helix. There are many variations to the drum magazine design, and some of them proved to be quite successful.

50- and 100-rounds capacity drum magazines were manufactured in significant quantities for the famous Thompson submachine guns; 71-rounds drum magazines were designed by Finnish engineer Aimo Lahti for his Suomi submachine gun, and the Soviet Union later copied said design for the PPD and PPSh submachine guns.

Drum magazines were later developed for intermediate and rifle ammunition – some of the most successful being the 75-round metal drums for the 7.62x39mm-caliber, Soviet-made RPK light machine gun or the 100-round plastic drums manufactured in Singapore for the 5.56x45mm-caliber ULTIMAX-100 machine gun.

The key problem with drum magazines is that their weight and cost are out of proportion if compared with the increased capacity they offer.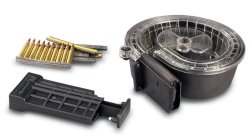 For example: in 1940, a 50-round drum for Thompson submachine gun retailed at $21, while 20-round box magazines for the same gun retailed at mere $3. The same 50-round drum weighed 1140 grams empty, compared to the 180 grams of the 20-round box.

100-round drums weighted 1800 grams empty and almost 4 kilograms when fully loaded. Disproportion are even more exacerbated when it comes to larger calibers – so to speak, 40-round metal box magazines for the RPK light machinegun weighs about 200 grams empty, while its 75-round drum weighs about 900 grams.

Furthermore, in most cases, drum magazines are remarkably slow to reload and uncomfortable to carry.
From the personal archives of Maxim Popenker
From the personal archives of Maxim Popenker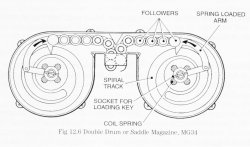 From the personal archives of Maxim Popenker
Double drum magazines
The first practical double drum magazines were designed in Germany during 1930s for the 7.92mm Mg13 and Mg15 machine guns. Those magazines consisted of two separate drums feeding cartridges into the single "throat" of the gun.

Not surprisingly, said magazines were quite expensive, heavy and hard to load. However, even when compared to drum or box magazines, double drums offer relatively small encumbrance, as they protrude very little from under the gun (when in a bottom-feeding configuration), placing most of its bulk at its sides.

In the late 20th Century, the American industry somewhat "resurrected" the design with the BETA C-MAG – holding 100 rounds of 5,56x45mm ammunition – whose polymer body alleviates some inherent weight problems; however, it still costs about $250, basically like fifteen to twenty standard 30-rounds box magazines.

From the personal archives of Maxim Popenker

NRA National Firearms Museum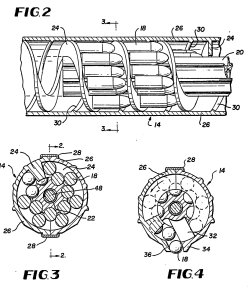 From the personal archives of Maxim Popenker
Helical magazines
The helical magazine is also not exactly a new idea: in 1870s, American engineer Warren R. Evans conceived and manufactured a centerfire lever-action rifle that offered an astonishing capacity for that time: 34 rounds stored in a cylindrical magazine located in the butt, which featured an Archimedes' screw-type design that held and fed cartridge through a helical path towards the breech.

Its expensive and complex mechanism caused it to quickly fall out of fashion back in the day, only to be resurrected after over one century. The best-known weapon system employing a similarly fashioned feeding system is the CALICO line of 9mm and .22-caliber centerfire and rimfire pistols, carbines, and submachine-guns, feeding through polymer-made 50- and 100-rounds helical magazines; similar systems are also used by the Chinese CS/LS06 and by the Russian BIZON-2 and PP90-M1 submachine guns, since helical magazines work better with relatively short handgun cartridges.

Helical magazines are more convenient to carry and use than if compared to drum magazines of the same capacity, but they're not less expensive: one 50-rounds CALICO 9mm magazine retails at slightly over $100; the same money can buy three to five 30-32 round box magazines for the UZI or the Colt SMGs.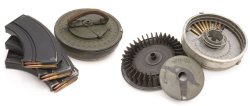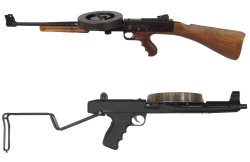 Chicago Regimentals & Co., Inc.
Pan magazines
Pan magazines host cartridges in a circular orders, in a single or multiple layers, with bullet tips pointing toward the center of the circle.

As a result, pan magazines sport a relatively large diameter and are less than comfortable to carry and use; furthermore they are best suited for rimmed ammunition, which made them loose popularity quickly once rimless ammunition became more popular than rimmed ammunition even in high-capacity, high-volume-of-fire military weapons.

Typical single-layer pan magazines can hold about 50 rounds; multiple layer magazines can hold up to 100 rounds and sometimes even more.

Probably the largest capacity obtained with multi-layer pan magazines for hand-held firearms amounts to 275 rounds – albeit of the diminutive .22 Long Rifle ammunition, used in the American-180 submachine gun and later in its Slovenian take-on, the MGV-176.

A flat pan magazine designed for conventional rifle ammunition would probably weight more than the gun itself it'd be designed for; and indeed, the 100-rounds pan magazine conceived for the Bren Mk.I magazine stood at 2.9Kg empty and about 5.45Kg when loaded; for the same weight, a soldier cold carry four fully loaded 30-rounds box magazines and some loose ammunition to spare.