Article also available in other languages

Reborn a few years ago as a member of the Suhl Arms Alliance, the legendary C.G. Haenel GmbH brand is today once again one of Germany's most highly regarded manufacturers of hunting and sports shooting firearms. Its product line includes the SLB-2000+ semi-automatic rifle and the full "Jaeger" line: the Jaeger.9 single-shot rifle, the Jaeger 8.10 drilling and the Jaeger 8.11 over-under rifle. All of them are considered as some of the world's best in their respective market segment − just as is Haenel's top product line, the Jaeger.10 series of bolt-action hunting and sports shooting rifles. A top-notch platform, the Jaeger.10 bolt-action system ensures reliability and accuracy in almost all situations, and is is manufactured using the most modern technologies and materials. An utterly stable six-lug bolt head runs smoothly in the cold-forged receiver, with the best possible surface finish and sliding behaviour. This receiver fits perfectly with the cold-hammer forged Suhl-made barrels. The opening angle of just 60 degrees allows for a quick repetition. Additional features include a crisp trigger with optional set trigger and a removable magazine for quick magazine changes. In a few words: everything that a light and responsive all-rounder needs, in ten different dedicated variants.


One of these − and indeed the most recent of them all − is the Jaeger.10 VSP model. VSP stands for "Varmint Sporter Pro", and has been conceived to merge in one single firearm all the best features of the Jaeger.10 line, resulting in a product that's equally suitable for sports shooting, for most hunting specialties, and even for Police purposes as a patrol rifle or for short-range tactical applications: a professional tool that combines many highly functional features in a package that comes at a lower retail price than the other models of the Jaeger.10 line, to say it with the words of Björn Dräger, the Company's Key Account Manager:
"Our aim was to upgrade the Jaeger.10 into a precision rifle that also enables access to demanding shooting at long distances for low budgets. The good precision systems of the Haenel best seller have been refined and extended."

The Jaeger.10 VSP bolt-action rifle is built on a compact 51 or 61-centimetres long, 19-millimetres diameter barrel and on a fibreglass-reinforced polymer stock featuring an adjustable cheekpiece, a popular feature among precision marksmen as it allows shooters to adopt optimum firing positions in all situations. A straight stock line with a rubber buttpad also plays a key role in reducing felt recoil, as forces are transmitted directly to the shoulder, which in turn is kept more in line with the bore axis, resulting in a reduced muzzle climb as well.

The Haenel Jaeger.10 VSP bolt-action rifle also comes equipped with an ergonomically-shaped sinthetic forend that features a sling swivel adapter and three short MIL-STD-1913 "Picatinny" rails at 3, 6 and 9 o'clock positions for tactical accessories or optional bipods: along with the top "Picatinny" rail that allows installation of any commercial or professional-grade optical device, this allows a high level of versatility that makes the Haenel Jaeger.10 VSP bolt-action rifle viable for law enforcement or military units requiring a short, handy high-accuracy rifle for urban deployment.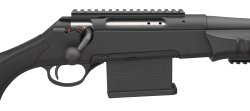 The cylinder breech is operated through an angled bolt handle, which in turn features a bottom ball for further comfort. The bolt sports a mere 60° opening handle, which translates into a faster cycling time for quicker follow-up shots on any target − in a hunting battue, down the range, or against a dangerous and armed hostile threatening the safety of innocent bystanders − and from any position, even the most confined, be it a tree stand or the rear seats of a Police vehicle. The Haenel Jaeger.10 VSR rifle feeds through a steel sheet prismatic magazine shrouded in polymer for silent insertion and protection against elements; the magazine may hold five or ten rounds depending from local laws and intended use (hunting, sports shooting or tactical applications), in any available caliber: the Jaeger.10 VSP is available in 7.62x51mm/.308 Winchester and in .300 Winchester Magnum. All Suhl-manufactured barrels for the Jaeger.10 rifle are cold-forged on the mandrel to ensure longevity and accuracy, and come with an M15x1 muzzle threading that's normally protected by a cap and that can be used to attach a flash hider or a silencer/sound suppressor.

The two-position safety switch of the Haenel Jaeger.10 VSP bolt-action rifle is placed right behind the cocking handle and features a chamber lock position that allows the shooter to lock the trigger while remaining able to operate the bolt, to fully unload the rifle in totaly safety. The trigger of the VSP rifle has been refined even from the extremely high standards of the Jaeger.10 line, breaks like glass and thus offers the ideal conditions for accurate shooting at long distances. Last, but not least, with a weight of just 3.7 kilograms, the Haenel Jaeger.10 VSP is ideal for hunting and for all these disciplines or applications that require both pinpoint accuracy and carrying comfort on long distances.
The distribution Haenel Jaeger.10 VSP rifle started only recently, and so far it may not be available everywhere. Interested customers may inquire with their local C.G. Haenel authorized distributors or contact the company directly for pricing and availability in their area.