For the first time since its founding in 1976, Pierangelo Pardini's company is offering on the market a long gun that is not exclusively dedicated to academic shooting. The new Pardini TR20 rifle was developed using the frame of the proven SP semi-automatic pistol as a base. Fed from magazines with a capacity of 15 or 20 rounds in .22 LR, the TR20 is a rifle designed to be competitive in the rapid fire sport shooting disciplines (Mini Rifle and Tactical Scope .22 disciplines) and for informal shooting (plinking).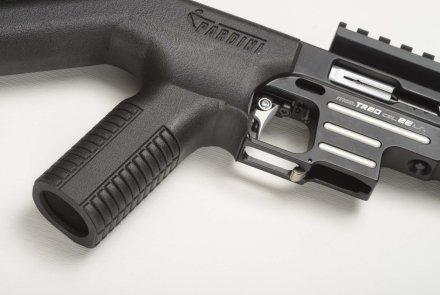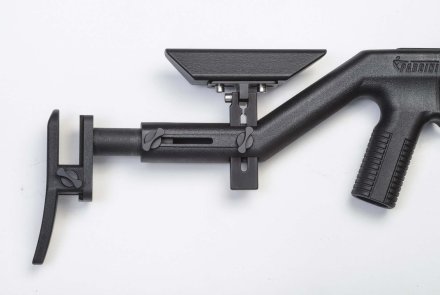 Pardini .22 TR20 rifle: born from the SP pistol
The TR20 is based on the frame of the SP pistol, from which it inherits the blowback action and the trigger that can be adjusted in every parameter. The Match-type barrel is made by Pardini itself and measures 400 mm: it has a diameter of 20 millimeters and is equipped with a removable compensator as standard. On the aluminum barrel shroud, which is further lightened by millings that improve aesthetics, a 350mm-long Picatinny rail is fitted that allows the mounting of all kinds of sights, from open sights to red dots, also including  mounts for traditional scopes.
The stock is manufactured using state-of-the-art 3D printers and is made of carbon polymer. It features an ergonomic ambidextrous grip, a height- (with 40 mm range) and tilt-adjustable cheekpiece and a vertically adjustable recoil pad (50 mm); the buttstock length is also adjustable and allows length of pull (the distance between recoil pad and trigger) be modified by 40 mm (320 to 360 mm).
New machinery recently acquired by Pardini Armi is also used for the manufacturing of the compensator and magazine. Thanks to the new 3D printers, Pardini Armi has also been able to redesign its range of accessories for academic pistols in .22 LR caliber, that can now use of 5-, 6-, 10-, 15-, and 20-round  magazines, where permitted by sporting laws and regulations. 
The TR20 rifle, strongly wanted by Giampiero Pardini to expand the company's offerings, is the first project developed by the founder in collaboration with his grandsons Andrea and Samuele, in the company for a few years now to represent the third Pardini generation engaged in running a brand that has been able to win worldwide success and fame. The Pardini TR20 will be available from September 2023.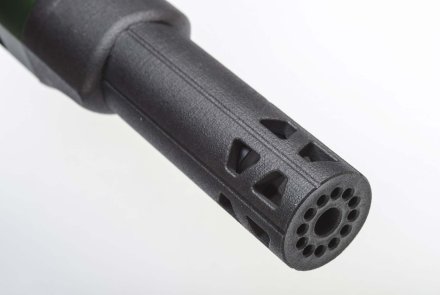 Pardini TR20 specs
| | |
| --- | --- |
| Model:  | TR20 |
| Caliber: | .22 Long Rifle |
| Type: | Blowback semi-automatic rifle |
| Magazine:  | One 15-round magazine and one 20-round magazine |
| Weight:  | 2,400 g |
| Overall Length:   | 800-850 mm |
| Barrel Length:  | 400 |
| Barrel Rifling:  | 8Dx406.4 mm |
| Trigger: | Adjustable |
| Safety:  | Manual  |
| Materials:  | Reinforced nylon, steel, ergal |
| Finishing: | Anodized action and handguard |
| Note: | 350-mm Picatinny rail |
| Prezzo | 1.306 euro senza ottica, 1.419 euro con ottica |
To learn more please visit the Pardini Armi website. 
For information about prices please contact you local distributor through the Pardini website.