"This notice is to inform interested parties of the cancellation of the Commercial opportunity Notice (CON) for the Interim Combat Service Rifle (ICSR), under CON W15QKN-17-Z-0ANP due to a reprioritization of funding previously allocated for the ICSR". 
In the somewhat convoluted bureaucratic language, this message posted on FedBizOps website on Tuesday, November 28, is the death knell for the Interim Combat Service Rifle (ICSR) program. 
Army 7.62mm Rifle Program CANCELLED: ICSR is no more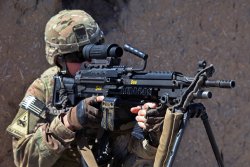 The ICRS is – was – the 7.62x51 rifle that should have replaced the M4 carbine In the US Army. The idea behind this was hat the 5.56mm M855A1 round currently in use cannot penetrate improved ceramic body armors, more and more encountered on the battlefield. But the standard-issue 7.62 M80A1 round cannot penetrate ceramic armor either. Only  armor-piercing (AP) ammo can defeat that kind of protection, and AP 7.62 rounds cost four or five times more than a standard 7.62 round.  
From the start it was clear to many that the ICRS was a messy proposal for a ill-posed problem. In fact, the same official notice explains that "Resulting from a change in strategy, the Government is reallocating the ICSR funding to the Next Generation Squad Weapon (NGSW). The NGSW will be a long term solution to meet the identified capability gap instead of the ICSR, which was an interim solution". 
Indeed, the ICSR was already dead last September when it emerged that the development program was stuck just a few months after its launch, being not the first nor the last US rifle procurement program to be stillborn.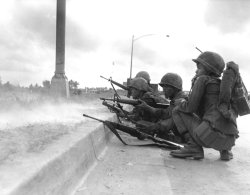 The Next Generation Squad Automatic Weapon mentioned in the official cancellation notice would fill capability gaps at the infantry squad level: the NGSW program includes both a rifle version to replace the M249 Squad Automatic Weapon and a carbine that replaces the M4. Yet, the Army won't likely see the NGSW before 2022, if ever... Once again, it seems that the 5.56 mm M4 carbine – a direct descendant of the early '60s and Vietnam War era M16 rifle - will soldier on for some years to come.