Less than one year ago SIG Sauer announced the official award of a contract by the US Army in the down-select process for the Next Generation Squad Weapons (NGSW). Now SIG has finally delivered to the US Army the systems, consisting of the revolutionary 6.8x51 hybrid ammunition, the NGSW-AR lightweight belt-fed machine gun, the NGSW-R rifle, and suppressors. These weapons should replace the M4 carbine and the M249 SAW chambered in 5.56x45mm NATO currently used by the US military.

SIG Sauer NGSW systems: "significant advancements"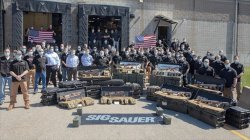 According to the manufacturer, each component of the SIG Sauer NGSW system offers "significant advancements in battlefield weapons performance". The new 6.8x51 Hybrid Ammunition, in particular, is a lightweight cartridge designed to handle higher pressures, providing increased velocity and terminal performance.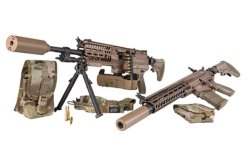 Here is what they say about the new weapons: "The SIG Sauer Lightweight Belt-Fed Machine Gun (NGSW-AR) doubles the effective range and is 40% lighter than the current M249 while maintaining the preferred belt-fed operation, with reduced felt recoil to increased accuracy. The SIG Sauer Rifle (NGSW-R) is built on the foundation of the battle tested MCX platform with the added firepower of the 6.8x51 round; both the NGSW-AR and NGSW-R feature familiar AR-style ambidextrous ergonomics designed for a seamless transition from the legacy weapons to the SIG NGSW system. The final component of the system is the SIG Sauer Next Generation Suppressors for reduced sound signature."
From the revolutionary designs and engineering advancements made throughout the development of the SIG NGSW system, SIG also announces that they will launch several commercially available products in the coming months, including SIG FURY hybrid ammunition which uses the NGSW cartridge design for various calibers, the MCX-SPEAR semi-automatic rifle, and the SIG Next Generation Suppressors. 
SIG Sauer NGSW systems in video
This video has been hidden because of an external service (YouTube) that could potentially collect personal data.Allow video services for the duration of the visitAllow video servicesStop allowing video services