The US Army is officially looking for a new submachine gun. Last May the US Army Contracting Command-New Jersey, on behalf of the Project Manager Soldier Weapons (PM SW), issued a Request for Information (RFI) to obtain information and feedback from industry regarding Sub Compact Weapons (SCW).
The RFI provided scant details about what they really wanted, just specifying that the "Sub Compact Weapon" must have "compatibility with 9x19 mm military grade" ammo and that "will be a full/semi-automatic selectable that has a MIL-STD 1913 rail (Picatinny Rail)"- practically, the generic description of a modern SMG. It also added that "these systems will require a potential contractor to be able to supply all components for the SCW to include the weapon and accessories" and that the Government was seeking information "for planning purposes only."  
On 6th June, anyway, the US Army Contracting Command-New Jersey issued a further special notice regarding the procurement of commercially available off-the-shelf (COTS) Sub Compact Weapons (SCW), explaining that it intends to solicit and award sole source contracts to the following ten awardees: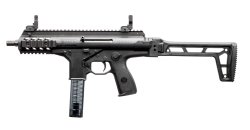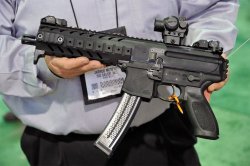 Colt's Manufacturing Company LLC for CM9MM-9H-M5A, Colt Modular 9mm Sub Compact Weapon - Amount: $22,000.00
Beretta USA Corporation for Beretta PMX Sub Compact Weapon - Amount: $16,000.00
CMMG, Inc. for CMMG Ultra PDW Sub Compact Weapon - Amount: $8,500.00
CZ-USA for CZ Scorpion EVO 3 A1 Submachinegun - Amount: $14,490.00
Lewis Machine & Tool Company for MARS-L9 Compact Suppressed Weapon -Amount: $21,900.00
PTR Industries, Inc. for PTR 9CS Sub Compact Weapon - Amount: $12,060.00
Quarter Circle 10 LLC 5.5 CLT and 5.5 QV5 Sub Compact Weapon - Amount: $24,070.00
SIG Sauer, Inc. for SIG Sauer MPX Sub Compact Weapon - Amount: $20,160.00
Trident Rifles, LLC for B&T MP9 Machine Guns - Amount: $36,000.00

Zenith Firearms for Z-5RS, Z-5P and Z-5K Sub Compact Weapons - Amount: $39,060.00
The anticipated award date is planned for July 2018.
This document also clarifies that "the SCW is a highly concealable sub compact weapon system capable of engaging threat personnel with a high volume of lethal and accurate fires at close range with minimal collateral damage." 
Delivery schedule of SCW will include magazines, cleaning kits, suppressors, specialized tool kit (if required), spare parts, slings, carrying cases, manuals. The new weapon will be used by Personal Security Detail (PSD) military personnel whose task is to protect command staff during operations - PSDs currently utilize pistols and rifles.