Article also available in other languages
"A warrior is one who trains day and night in every suitable environment and every appropriate circumstance. A warrior struggles with his brothers in abnormal and severe conditions. He endures a soldier's life and sacrifices to protect humanity, not caring about himself." Quote: Brig. Gen. Aref Al-Zaben, Commander, KASOTC
A total of 38 teams participated in the competition from around the globe. The competition consisted of 10 team-events were this year the Annual Warrior Competition introduced the events by name only, leaving the actual details a mystery to the teams of international special forces until arrival.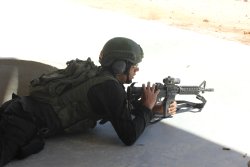 In general, the events were designed to test advanced combat marksmanship, climbing techniques, team work, time management, endurance, planning, team cohesion, speed, urban combat maneuverability, accomplishing tasks under stress, breaching skills, team communication, high angle marksmanship, sniper team skills, precision shooting at unknown distances and over all physical fitness.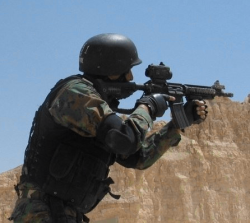 Mission X, the world's premiere tactical, survival, and adventure consulting team, is proud to announce the successful conclusion of the 6TH Annual "International" Warrior Competition at the King Abdullah II Special Operations Training Center (KASOTC), the Hashemite Kingdom of Jordan. This is the first year Mission X has administered and evaluated Warrior Competition events on behalf of His Majesty King Abdullah, the Jordanian SOF Community and KASOTC.
Over 300 special operations personnel from nearly 40 teams and 19 countries competed in 11 rigorous events this year. Contenders included members of elite police tactical units and top tier military units from around the globe.
"This year we provided rigorous scenarios unseen in previous Warrior Competitions," advises Mission X CEO Harry Taylor. "We worked hand in hand with Brig. Gen. Aref Al-Zaben and KASOTC personnel to try to challenge competitors like they've never been challenged before, and it looks like we succeeded. We've seen great displays of shooting ability and incredible athleticism, and most of all incredible effort on the part of the lads taking part. Make no mistake, many of these lads ran and pushed like their heart would burst."
Our congratulation goes to the winning team of the Chinese "SNOW LEOPARD TEAM" from the Chinese People's Armed Police Force. Well done guys!
The results of the 6th annual Warrior Competition 2014: 

| | | |
| --- | --- | --- |
| TEAM | Country | Total |
| SNOW LEOPARD UNIT of The Chinese People's Armed Police Force | China |               1 |
| SPECIAL OPERATION UNIT of the PAPF Sichuan Corps | China |               2 |
| ROYAL GUARDS | Jordan |               3 |