After more than 30 years of service, Canada is going to replace its 7.62x51mm NATO C6 machine guns with 1,148 7.62x51mm NATO C6A1 FLEX (Flexible) GPMGs.
The C6 – the Canadian version of the FN MAG 58 produced under license by Canadian Arsenals Ltd. back in the 1980s – is a belt-fed fully-automatic, air-cooled, gas-operated medium machine gun. Restricted to firing in full-automatic mode from the open bolt position, it can fire from 750 to 1100 rounds per minute. After decades of use, Canadian C6s are worn out and many have been already removed from active service. Their wooden stocks also can't be decontaminated as easily as various plastics and metals in the event of an NBC attack: from this originated the operational requirement for a polymer stock that led to the development of the C6A1 FLEX.
Features of the new C6A1 FLEX 

The new weapon, that will begin to replace current C6s throughout the armed forces in September 2018, has a polymer buttstock, M1913 Picatinny rails, and adjustable gas tube regulators similar to the U.S. M240 "Golf" models. The Picatinny rails make it possible to attach pointing devices, optical sighting systems and other accessories to the weapon to help increase operational effectiveness.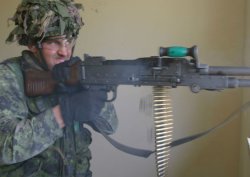 The Canadian government will purchase the new 1148 General Purpose Machine Guns from Colt Canada under a CAD 32.1 million (USD 25.7 million) deal including related spares, repair kits and accessories. The C6A1 FLEX will be manufactured at Colt Canada's Kitchener, Ontario facility.
The Government claims that this contract will add 13 jobs to the plant, while maintaining around 100 jobs. Order will be completed in June 2019. 
One C6 is issued to each rifle platoon for support while other variants are mounted on vehicles, including Leopard C2 main battle tanks. The new C6A1 FLEX is designed to be carried by soldiers or attached to vehicles such as the new Tactical Armoured Patrol Vehicle. 
"This purchase will replace equipment that was procured over 30 years ago and will ensure that the CAF are properly equipped and continue to be ready for operations, " said Canadian Defense Minister Harjit S. Sajjan.