Presented only as a promising prototype last year, the extremely modular, versatile Z9 MHS pistol - whcih is technically based of the Austrian bestseller GLOCK - is now a production-ready reality. We examined the pistol at the SHOT Show 2019 and we are telling you what you can expect from the ZRO Delta Z9.
ZRO Delta Z9 pistol: features and details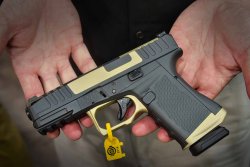 Franco Palamaro, © F.PALAMARO
The heart of the ZRO Delta Z9 Modular Handgun System is an aluminum frame with trigger group as a middle component, on which dust cover, front and back straps and magazine funnels can be mounted in various sizes, widths and designs. Of course, the top parts (slide and barrel) are available in different lengths and configurations to choose from, so that you can turn a compact gun for concealed carrying into a "race gun" in a jiffy. Only three screws/retaining bolts must be removed and replaced.
Tight tolerances, match barrels and a recess with cover plate in the rear slide section for mounting a red dot sight (Trijicon RMR) are standard in each of the three available sizes – Compact, Duty and Race. There are hardly any limits to the possibilities. The Compact (C) model with 4 in / 101 mm barrel and a magazine capacity of 15 cartridges costs 1300 USD, the Duty (D) model with 4.5 in / 114 mm barrel and 17-round magazine comes at 1350 USD, and the Race (R) model with 5.25 in / 133 mm barrel and identical duty 17-round magazine is 1400 USD. 
In our opinion the full modular concept – even if not altogether new – is quite interesting. The trend towards modularity in guns is clear, after all, and that's exactly what distinguishes latest generation pistols from older ones. Unfortunately, only time and field experience will say whether this radically innovative gun system will really change the handguns world, even in Europe.