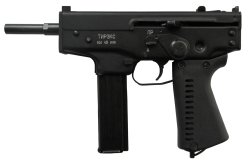 ZLATMASH - Zlatoust Machine-Building Plant, OJSC
Headquartered in the Russian town of Zlatoust, the ZLATMASH plant has been manufacturing firearms for decades now, and its main product for the military and Police market is the PP-91 "Kedr" 9x18mm-PM caliber sub-machine gun, currently issued to the special troops encadred in the MVD − the Russian Ministry of Interior. Given the high level of popularity that the PP-91 "Kedr" enjoys in its homeland, ZLATMASH manufactures a wide range of civilian-grade variants of the design, ranging from semi-automatic pistols and sub-carbines to traumatic bullet replicas, and even airguns − and that's what we're talking about. The "TyRex" is a 4.5mm/.177-caliber airgun; ZLATMASH chose to manufacture such a version of the "Kedr" platform as private ownership of handguns in Russia, although no longer completely prohibited as it was a few years ago, is still tightly restricted, while ownership and trade of airguns is basically deregulated. Nonetheless, given the aesthetic similarities and control configuratiobn akin to the original sub-machinegun, the "TyRex" may be profitably used for basic training purposes.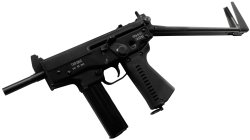 ZLATMASH - Zlatoust Machine-Building Plant, OJSC
The "TyRex" airgun is manufactured following the same technical criteria used in the making of the original PP-91 "Kedr" sub-machinegun, as well as the same materials and even most of the same machineries. The ZLATMASH "TyRex" airgun is manufactured out of steel stampings and plastic, and is available in three variants: the only difference between the first two, dubbed the PPA-K and PPA-K-01, is the lack on the PPA-K of the sheet metal upfolding stock featured on the PPA-K-01; both can shoot in semi-automatic and burst mode, feed through a single-stack magazine, and are powered through a standard, commercial-grade CO² canister hosted inside the grip. The PPA-K-02 variant has been conceived for those Countries that impose restrictions on burst-firing airguns; it comes equipped with an upfolding sheet metal stock, but is capable of semi-automatic fire only. All PPA-K "TyRex" variants also feature a 3 joules max. muzzle energy, which makes them perfectly legal to purchase and possess without a license of any kind in most Countries. Sadly, the "TyRex" is not available outside of Russia and its neighboring countries; maybe this small article will raise global interest in this jolly little plinker, of which surely ZLATMASH can manufacture enough to satisfy an international market.