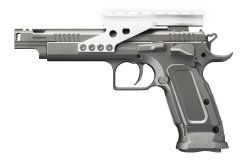 Accuracy, speed, constant effort to achieve perfection: these are the factors that made IPSC shooting so popular worldwide, now even in those Countries, especially in Asia, where handgun ownership is strictly forbidden (and gun ownership in general severely restricted) − Countries whose law-abiding, gun enthusiast citizens have always been forced to resort to Airsoft collection.

Airsoft dynamic shooting has thus been turning increasingly popular in the past years. Using green-gas or CO²-powered high-accuracy replica to achieve the highest possible levels of realism, this kind of IPSC simulation has been gaining interest within MilSim or Combat aficionados even in Europe and in the United States, where gun laws might of course be less restrictive than Japan's or China's, yet most Airsoft shooters still are not of legal age to own guns or be granted a firearms license, and thus approach these disciplines as a propaedeutical practice to be better prepared when the right time will come.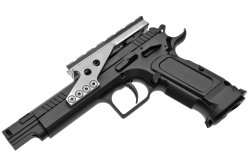 That's exactly the market segment that the French firm of Cybergun S.A., European leader and one of the world's greatest names in Airsoft, thought of when launching its own replica of the "Gold Custom" 9mm/.40 semi-automatic IPSC pistol manufactured in Italy by Fratelli Tanfoglio S.n.c.; the Tanfoglio "Gold Custom" is one of the most successful race guns in the history of modern IPSC, and shooters that entrusted it in competitions have been repaid with years of victories and satisfactions. One of the most notorious competition users of the Tanfoglio "Gold Custom" is the five-times world Champion Eric Grauffel, who demonstrated the whole potential of the "Gold Custom" by beating all speed records during the "Shooting Game Show", a fringe activity of the 2011 edition of the MILIPOL defense technologies expo in Paris (France). Mr. Grauffel's contribution to Cybergun's activities was subsequently instrumental in the realisation of this perfect replica.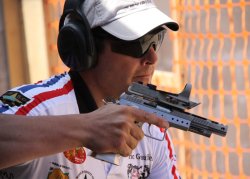 The Cybergun replica of the Tanfoglio "Gold Custom" pistol in its "Eric Grauffel 2007" configuration is entiraly metal-made and feeds through a detachable magazine hosting both a double-stack column for 6mm BB pellets and a seat for a CO² tank. Its "Blow-Back" system grants extremely strong reaction to the shooting, to achieve the greatest levels of realism during the simulation; the BAX system will also allow the user to set the replica's performances according to its needs and preferences in a more versatile way if compared with the classic HOP-UP systems. Last, but not least, the Cybergun "Tanfoglio Gold Custom" Airsoft replica features an integral mount for optical sights. This perfect IPSC-sim machine is already available on the international markets and goes for about €150 in Europe and $148.95 in the United States; it is of course a peculiar product, aimed (and it's not a pun!) to unforgiving customers, who however have all been by now positively impressed by its quality and performances.