International economical sanctions, imposed upon Russia after its take-over of Crimean peninsula, produce some side effects which are completely unexpected to those who set the sanctions. For example, prohibitions to export weapons (including sporting and hunting guns) from EU to Russia, combined with drop of the Russian Ruble compared to Euro and US Dollar, resulted in significant increase of activities of domestic gun manufacturers, seeking to replace overly expensive or completely unavailable Western guns with domestic equivalents.
Before sanctions, Czech-made CZ-75 pistols dominated many Russian IPSC shooting clubs and events, and there were obvious reasons for that. However, today's increased local prices preclude many clubs from buying imported guns, so a serious need was detected for a domestic equivalent of the IPSC-grade CZ-75 replacement. This year, this need was answered by a newly formed private company "Russian weapon technologies and systems" Ltd (RWTS Ltd), located in Moscow. Following the steps of well-known pistol manufacturers such as Tanfoglio, Sphinx or IWI, RWTS decided to produce its own CZ-75 clone, compatible with many CZ pistol accessories including magazines.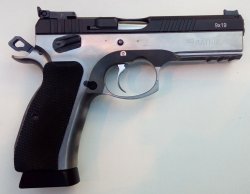 This new pistol, code-named "Soratnik" (which can be translated from Russian as "brother in arms" or "combat partner"), was first presented to the public during annual Arms&Hunting exhibition held in Moscow between September 29th and October 2nd, 2016. Initial plans are to start deliveries of production guns during 2nd half of the 2017. It faced very warm reception to say the least, with "hundreds of preliminary orders already recorded within just 4 days", according to the company representative.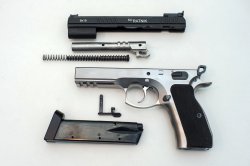 The "Soratnik" pistol is an all-steel 9mm (9x19 Luger) handgun with clearly defined pedigree and practical sport shooting destination. 100% made in Russia, it boasts CNC-machined parts and rather good finish. It features traditional DA/SA trigger tuned to sport standards, flared magwell and integrated Picatinny rail under the barrel. Sport-type iron sights are dovetailed into the slide and are compatible with CZ equivalents. Standard magazine is also CZ 75-compatible and holds 18 rounds. In hand, it feels like a cross between CZ-75 Shadow and Sphinx 3000, although the latter may certainly look like a more refined gun.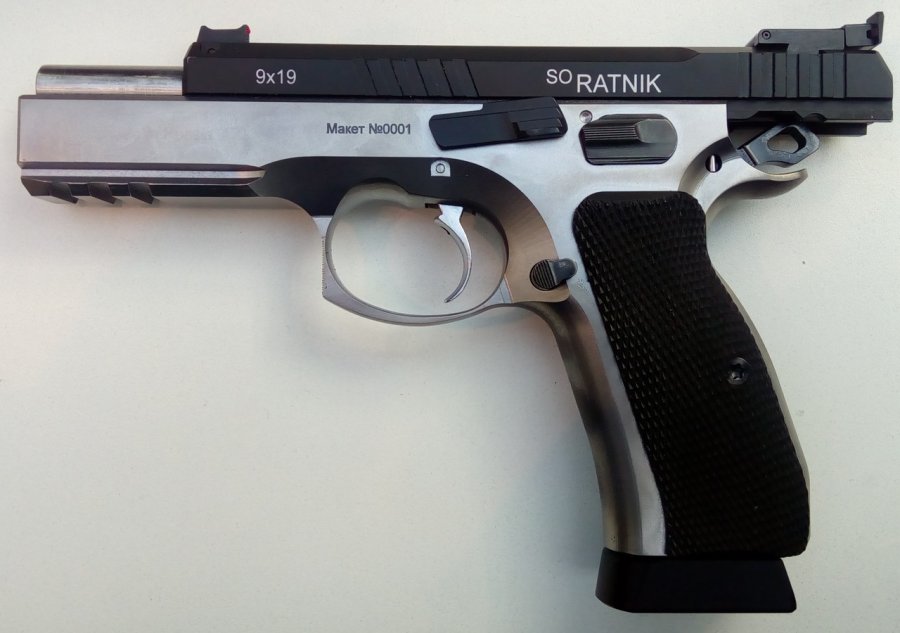 The key difference is that retail price for "Soratnik" is estimated at about 50,000 Russian rubles, about 2 or 3 times less than comparable CZ or Tanfoglio pistols imported to Russia. In Western terms, "Soratnik" price is roughly equal to 700 Euro.
The present author was not yet able to test-fire this pistol, but plans to do so as soon as possible, and will duly report his results and opinions to all4shooters.com.