Good news for those who love classic revolvers: Smith & Wesson announces that it has reintroduced two configurations of its Model 19 revolver, chambered in .38 S&W Special +P and .357 Magnum.  Since last "blued" Model 19 went out of standard production before the year 2000, this means that for the first time in 20 years the Model 19 will be available as a catalog item, what's more in a Classic and a Performance Center version.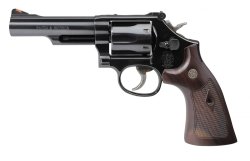 Introduced in the mid-50s following the suggestion of that legendary lawman, marine and firearms expert named Bill Jordan, the Model 19 is based on the medium K-frame – a good balance of size and portability – and enjoyed huge popularity among LEOs and professional users until the rise of the "wondernines" and other semi-auto pistols. Tony Miele, General Manager of the Performance Center, explains: "The Model 19 revolver was a popular choice for both law enforcement and civilian customers for nearly 40 years, and after many requests, we've decided to reintroduce it to the product line in both Classic and Performance Center models.  The Model 19 Classic is designed to replicate the original, while the new Performance Center Model 19 Carry Comp features modern revolver innovation and design for today's shooters."

Smith & Wesson Model 19 Classic in two versions
As said, two configurations are available: the Model 19 Classic and the Performance Center Model 19 Carry Comp. With a highly polished, blued finish and traditional thumbpiece for a classic look, the "new" Smith & Wesson Model 19 Classic revolver has been enhanced with modern internal components, but replicates the look and feel of classic models. The revolver features a traditional set of walnut grips, a 4.25 in / 108 mm barrel, a black adjustable rear sight, and red ramp front sight. Suggested retail price is 826 USD.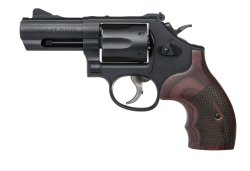 The Performance Center Model 19 Carry Comp is instead designed for concealed carry and includes a tritium front night sight, custom wood or synthetic boot grips. It prominently sports a 3 in / 76 mm PowerPort vented barrel for recoil management, featuring a trigger overtravel stop and Performance Center tuned action for a smooth double-action and light single action trigger pull. Price for the Model 19 Carry Comp is a bit steeper, at 1092 USD, including custom wood and synthetic grips.
Smith & Wesson Model 19: technical data
| | |
| --- | --- |
| Models: | 19 Classic - Performance Center Model 19 Carry Comp |
| Action:  | single/double |
| Calibers:  | .357 Magnum, .38 S&W Special +P |
| Barrel length:  | 4.25 in / 108 mm - 3 in / 76 mm |
| Overall length:  | 9.9 in / 251 mm - 8 in / 203 mm |
| Weight: | 37.2 oz / 1,054.6g - 34.1 oz / 966.7g |
| Barrel Material: | stainless steel |
| Frame Material:  | carbon steel |
| Cylinder capacity: | 6 rounds |
| Price: | 826 USD - 1092 USD |