Smith & Wesson made a sensation at the SHOT Show 2023 last January, when they somewhat unexpectedly introduced the M&P 5.7 pistol chambered for the increasingly popular 5.7x28mm cartridge. A few moths later, here comes the two-tone black and FDE variant of the M&P 5.7. But let's take a small step back and talk about this innovative handgun.
Smith & Wesson M&P 5.7, an innovative design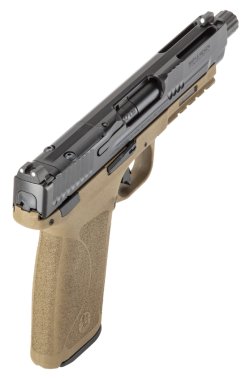 With an impressive 22-round capacity, the Smith & Wesson M&P 5.7 pistol in 5.7x28mm is a polymer-frame platform featuring the gas-operated, locked-breech, rotating Tempo Barrel System. 
When the gun is fired, the barrel doesn't cam open until the bullet has reached the gas port, which is supposed to be conducive to better function and accuracy. (By the way, the same Tempo Barrel System is also used in the recently introduced and interesting Smith & Wesson M&P22 Magnum pistol we already presented on all4shooters.com a while ago.)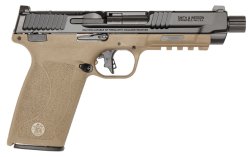 The 5"/127 mm long barrel has a 1:9" twist as well as a muzzle thread with cover cap. The polymer grip frame has a Picatinny rail on the dust cover. The flat-faced trigger, allowing more accurate and repeatable shooting, features an integrated safety. The M&P 5.7 is an internal hammer-fired gun and not the classic striker-fired gun like most S&W's pistols from the M&P series.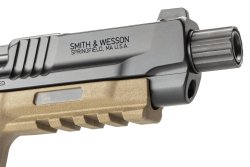 The optics-ready slide with rear and front serrations features mechanical sights as well as weight-reducing cut-outs and can be upgraded with mini red dot sights such as the Shield Sights RMSc thanks to the interface. The Smith & Wesson M&P 5.7 mm is optionally available with or without a double-sided thumb safety on the frame.
All the described features are also included in the latest two-tone variant, of course. The only difference is the price, with the two-tone variant being sold at $719 instead of the &699 of the standard all-black model (MSRPs in the U.S.). 
No actual reason is given for this difference in price. According to the claim, "The new M&P5.7 will light up the range and quicken your pulse". In any case, it is a welcome addition to the ever-growing market offer of 5.7 handguns. 
Video introduction: new Smith & Wesson two-tone M&P 5.7
This video has been hidden because of an external service (YouTube) that could potentially collect personal data.Allow video services for the duration of the visitAllow video servicesStop allowing video services