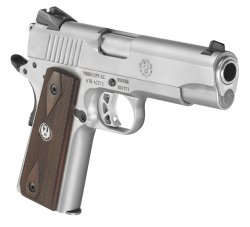 Sturm, Ruger & Co., Inc., is one of America's top gun manufacturers, well known for its past and present lines of service, defense and sporting revolvers, hunting and sporting rifles, tactical carbines, and semi-automatic pistols. Albeit known for its sturdy, reliable products in these fields, Ruger was also known for a certain marketing rigidity − at least, up until a few years ago. Ever since the early 1990s, Ruger's products line remained substantially inert, with no significant new items launched up until a few years ago, when a new, younger management took over and decided to push for renovation, launching an entire new line of revolvers, semi-automatic pistols, rifles, carbines and shotguns. The result were literally astonishing, and Ruger has been steadily growing in sales both in the U.S. and on the global markets ever since, becoming once again a huge, competitive powerhouse in the American gunmaking industry.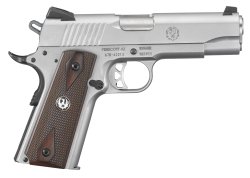 Ruger particularly focused its efforts on two product segments, these being polymer-framed pistols and 1911-style semi-automatic handguns. Both product types have been steadily growing in sales for several years now, but the previous Ruger management was discouraged from going for them by the number of competiting companies, deemed too big. It all changed when Barack Obama was elected as the 44th President of the United States, raising fears of new gun control measures at a Federal level and thus prompting a new sharp rise in gun sales. The newly-stimulated U.S. gun buyers particularly seemed to appreciate Ruger's own version of the quitessential American pistol design: the SR-1911 proved to be a sturdy little thing to go for, available at a reasonable price for a performing, solidly built pistol.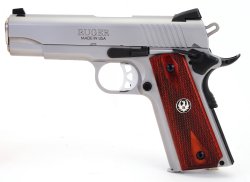 As a matter of fact, Ruger's SR-1911 full-size pistol is now regarded by American shooters as one of the best cost-effective 1911-based designs ever, at least as far as it concerns US-made products.
In 2013, Ruger decided to expand the SR-1911 product line with the Commander variant, conceived for those military and Police personnel, private security operators and ordinary citizens who routinely carry a 1911-type pistol, either open or concealed, for service and defense purposes, and thus require a smaller, lighter variant. Essentially akin to the full-size SR-1911 variant, the "Commander" version is merely 7.¾-inch long, sporting a 4.¼-inch barrel, and weighting 36.4 ounces with an empty magazine. 

This video has been hidden because of an external service (YouTube) that could potentially collect personal data.Allow video services for the duration of the visitAllow video servicesStop allowing video services
Ruger manufactures the SR-1911 "Commander" semi-automatic pistol entirely from machined stainless steel; the gun comes with an anti-glare finish, a Browning-type single-action only working system with lightened/skeletonized trigger and hammer, extended beavertile grip safety, and standard 1911-style frame-mounted manual safety. Other features include Novak high-visibility front and rear sights, wooden grip panels available in two different variants, and a single-stack magazine holding seven rounds of .45 ACP ammunition; the Ruger SR-1911 "Commander" can fit an additional round in chamber, raising the overall ammunition capacity to eight rounds. MSRP in the United States currently ranges around 829.00US$, but the street price may vary. Availability and pricing outside of the United States are to be inquired about with local importers, distributors, and retailers, and may depend from local laws and regulations.