Kimber's K6s series revolvers are a class of their own with their refined look. Now the  renowned US manufacturer offers an even more classy option with its K6s Classic Engraved special version. Kimber's website explains this well: "The K6s Classic Engraved adds a subtle elegance to the modern concealed carry revolver. A beautiful leaf engraving over subdued brush finish provides a quiet sophistication, that when paired with the polished motif rosewood grips completely transforms this contemporary revolver into a true classic."
Kimber K6s Classic Engraved revolver: features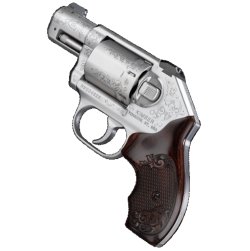 The new Kimber K6s Classic Engraved revolver indeed adds the right amount of elegance to the K6s design without getting flashy, as is often the case with engraved handguns. This is also thanks to its nice brushed finish. And considering the .357 Magnum cartridge it's chambered in, it's still a very powerful little package. 
For the rest, technical features are the same as all the K6 family: the Kimber K6s Classic Engraved is a small frame, two-inch barreled revolver with a 6-round, 1.39 in / 35 mm diameter cylinder entirely machined from stainless steel. Design features include a smooth DAO match-grade trigger, internal hammer and rounded edges to prevent catching and snagging, and ergonomic grip design. Sights are a 3-dot system.
Weighing in at 23 oz / 652 g and with an overall length of 6.62 in / 168 mm, it demonstrates its vocation as a concealed-carry weapon.