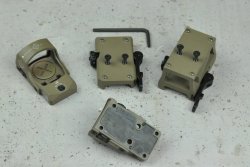 According to Sightmark, the Mini Shot M-Spec with the sober model designation SM6043 has been designed primarily for law enforcement, but it should be equally suitable for demanding hunters, as well as competition shooting on short and long guns and will therefore come complete with various mounts. With its 21x15 mm objective lens, compact overall dimensions of 44 x 29 x 34 mm (LxWxH) and a flyweight of 1.5 oz / 44 g, the Mini Shot M-Spec LQD is fully in line with the current MRDS trend and at first glance resembles the well-known DocterSight (now Noblex).

The Sightmark SM6043 design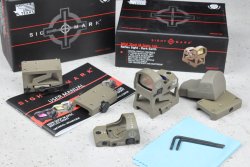 But a closer look reveals some differences. In the front part of the housing made from 6061-T6 aluminum you will find a rubberized control switch that can be used to increase (switch on the left side) or decrease (switch on the right side) brightness. To switch on the reflex sight, just press one of the two buttons briefly. If you want to switch it off later, press and hold the button on the right side for about 4 seconds. A total of 10 brightness settings are available. However, the Sightmark MRDS does not have an automatic brightness level adjustment depending on the ambient light. The 3 MOA red dot reticle is powered by a single 3 volt CR1632 battery, which is housed in a battery compartment closed with a screw cap on top of the sight. This freely accessible battery compartment eliminates the need to remove the sight in case of a battery change. The bottom of the Sightmark Mini Shot M-Spec is completely closed. So it's not surprising that the sight is dustproof and waterproof according to IP67 (up to 1 m water depth for one hour). Otherwise, on the sight body you will only find the elevation and windage adjustments, which are provided with a laser etched scale, have a click adjustment (1 MOA per click) and can be adjusted with the included adjustment tool. The click adjustment is not particularly loud, but provides sufficient tactile feedback.

Sightmark Mini Shot M-Spec, a rugged sight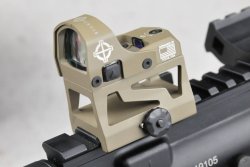 As a special feature, the Mini Shot M-Spec is equipped directly from the manufacturer with a steel protective "hood", which encloses the sides of the housing as well as the complete lens frame. This is intended to protect the fragile lens area effectively from shocks or ejected cases. The protective hood is fastened on both sides with two screws. As mentioned at the beginning, the sight comes with two mounts included. They are a called "Low profile Mount" and "AR Riser Mount". Both are intended for use on Weaver/Picatinny accessory rails, whereby the riser version increases the line of sight by a full 2.2" / 56 mm and thus enables absolute co-witness when used on AR rifles (which means that iron sights and the illuminated dot are at the same height). However, if the Mini Shot M-Spec is to be mounted on a handgun, this is also no problem thanks to the DocterSight interface integral with the housing underside. The mounts are available in 2 versions, identified by the suffix "LQD" after the model designation SM6043, and differ in terms of mounting system. While the normal version only uses a TX10 cheese-head screw, the "LQD" version features a locking quick-detach mount.
Sightmark Mini Shot M-Spec: technical specs
| | |
| --- | --- |
| Manufacturer: | Sightmark |
| Model: | SM26043DE / SM26043-LQDDE (also available in black) |
| Price: | 315 euro (price in your country may vary due to VAT and import duties) |
| Housing material: | one-piece 6061-T6 aluminum alloy housing with steel hood |
| Objective lens (W x H): | 21 x 15 mm |
| Housing dimensions (L x W x H): | 1.7 x 1.14 x 1.33 in (44 x 29 x 34 mm) |
| Weight: | 1.5 oz / 44 g (without mount) |
| Reticle type: | 3 MOA |
| Brightness: | 10 manually adjustable brightness levels |
| Battery: | 1 x 3 volt CR1632 |
| Accessories included: | Weaver / Picatinny mounts in two versions (Low Profile and Riser Mount), two angle wrenches (one for T10 Torx screws and one for slotted head screws), CR1632 battery, cleaning cloth, rubber cover, mounting screws. |
| Eye relief: | unlimited |
| Range of adjustment (elevation & windage): | 110 MOA, 1 MOA per click |
| Footprint: | compatible with Burris Fastfire / Docter (Noblex) sight mounts |
With the Sightmark MRDS on the shooting range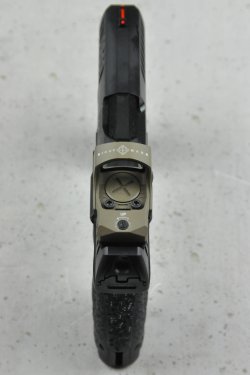 What would an optical test be without a visit to the shooting range? So we went to the stand with both test sights in our luggage. We mounted one of the Mini Shot M-Spec MRDS on a Walther PPQ Q4 using the appropriate adapter plate for Docter Optic/Noblex mini red dot sights, and the other sight was mounted on a Troy M5 Carbine AR15-9 semi-automatic rifle in 9mm pistol caliber with the "High Mount".
The test firing of both guns took place quickly and the necessary corrections could be reliably made thanks to the precise click adjustment. Although the adjusting screws (as with many models from other manufacturers) do not have any counter screws, we were unable to detect any misalignment during our 500-round test. Much to our delight, the 3 MOA dot proved to be very clearly defined and the 10 well-matched brightness levels allowed the light intensity to be adjusted to a wide range of environmental light conditions. As part of the practical testing, we also tested both versions of the "Riser Mount", i.e. with a simple screw and with locking quick-detach mount. In the end, however, we couldn't tell the difference. Both held the Mini Shot M-Spec safely and securely in place on the Troy's sight rail, although the quick detach lever of course increases the ease of use.
Sightmark Mini Shot M-Spec: wrap-up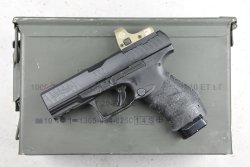 Time will tell whether the new Mini Shot M-Spec MRDS by Sightmark will be able to hold its own against well-known competitors like the Noblex Sight plus II / III or the Vortex Venom. In any case, the decisive factor here will be how the system performs in continuous operation, i.e. how reliable it is. In view of the brevity of our test, we cannot, of course, make a final judgment on this point. In any case, Sightmark's MRDS is supported by the image quality of the illuminated dot and undoubtedly by the wide range of accessories included. Where other manufacturers only offer hoods or mounts in different heights in their paid accessory range, Sightmark offers an all-round carefree package and you can get started right after the purchase.  In this respect, the price of 315 euro is definitely okay.