The Sightmark Element Mini Solar in detail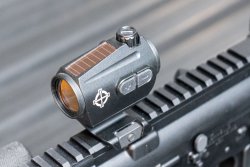 The Element Mini Solar already suggests through its name that it uses the power of the sun and even artificial light. This is not always sufficiently available, so as dual power it also relies on a C2032 button cell so that the device is really always ready for use. The battery should last between 400 to an incredible 200,000 hours depending on the light setting. If you deliberately switch off the 63x41x44 mm device, which weighs around 108 grams, it will only light up when light hits the photocell. And that is usually sufficiently available on indoor shooting ranges or in the basement at home. So don't be surprised if the Sightmark already lights up when you take the gun out of the safe. This should also save the battery as much as possible. The last of the 10 brightness settings provides enough light to stand out from the background even in bright sunshine. The 3 MOA – about 87 mm at 100 m – dot appeared almost perfectly circular and showed almost no parallax errors at 25 meters. The manufacturer claims recoil rating up to .338 Winchester Magnum caliber, as well as an operating temperature of -20 to +60 degrees Celsius. The adjustment range of 120 MOA is more than enough for a reflex sight.
Sightmark Element Mini Solar: practical tips for mounting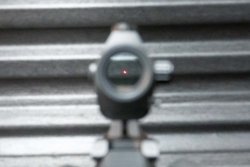 The manufacturer encloses two mounts for 1913 Picatinny rails, which differ in height. Everything you need is already included, just like the protective caps or a cleaning cloth for the lenses. As with all red dot sights, sighting-in by means of laser cartridge is offered – Sightmark even offers it for rifle and handgun calibers.
Such a procedure can be done conveniently at home. This saves time at the shooting range, money for ammunition and also prevents embarrassing ground or cover hits. There was only one point of criticism during the test. The arrow that indicates the adjustment of the point of impact is a bit thin and can hardly be seen. In our opinion, the manufacturer could improve this a bit. We were really satisfied with all other points.
Sightmark Element Mini Solar specs and price 
| | |
| --- | --- |
| Model: | Sightmark Element Mini Solar |
| Magnification: | 1x |
| Lens Diameter: | 22 mm |
| Dot Size: | 3 MOA |
| Adjustment: | 120 MOA (elevation)/160 MOA windage |
| Recoil Rated: | Up to .338 Win Mag. |
| Battery Life: | 400-200.000 h |
| Dimensions (LxWxH): | 63x41x44 mm |
| Weight:  | 3.8 oz/108 g |
| Price: | 360 euro |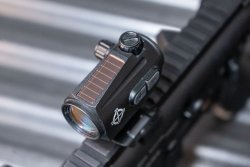 Our conclusion on the Sightmark Element Mini Solar
Overall, the Sightmark Red Dot left a very positive impression in our test. The solar panel should extend the battery life significantly, since the solar cell alone should be sufficient most of the time. In addition, you have a back-up if the battery runs out exactly when no other one is at hand. So, to return to our initial question: a red dot sight powered by solar technology is not "greenwashing." It offers some practice-relevant advantages and gives shooters added peace of mind when it comes to powering their optics. With the Element Mini Solar, Sightmark has a well-functioning device offered at an attractive price of €360.