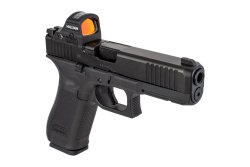 The Primary Arms Holosun HE507C-GR-X2 Vulcan is a green reticle reflex sight whose special feature is the innovative Multiple Reticle System. Behind it is a large 250 MOA circle, with a central 10 MOA center mark in the form of a chevron. The outer circle is outside the shooter's field of view when the gun is correctly aligned, so it does not interfere. However, the circle can be switched off and on again if necessary. If the shooter has switched on the outer circle, this gives him direct feedback about any aiming errors he may be making. Such aiming errors often occur with sport shooters who have little practice in using handgun optics. The result is unintentional high, low, right or left shots. These can be avoided here: if the shooter sees part of the outer circle instead of the center chevron, he/she can easily and quickly correct the alignment of the gun by making the circle "disappear." This option should also avoid the infamous frustration of hunting for the center reticle, saving valuable time during target acquisition. When the gun is aligned correctly, only the razor-sharp chevron is visible. This uses a fine aiming tip for precise work.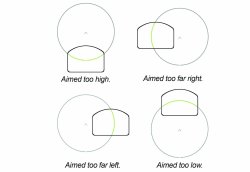 The new Primary Arms Holosun HE507C-GR-X2 Vulcan features a rugged 7075-T16 aluminum construction. It is powered by a CR1632 3V coin battery. In addition, the optic also features an efficient solar mode with automatic brightness setting, which is designed to prevent the illuminated reticle from failing just when the shooter doesn't need it, such as in the middle of a competition. However, the solar panel only serves as a back-up function and not for charging the battery. The reflex sight has an intelligent "shake-awake" sensor that automatically activates the optic at the last brightness level set. This means that this reflex sight is always ready for use when you need it, making it suitable for the hunter's driven hunt gun. The optic features 12 brightness settings and 1 MOA click adjustment.

The Primary Arms Holosun HE507C-GR-X2 Vulcan is compatible with Trijicon RMR-style mounts. According to the manufacturer, it is not only excellent for handguns, but also for 15-m target shooting with shotguns. In addition, the sharp reticle with fine chevron makes this optic ideal for use in driven hunts as well. The new reflex sight is available immediately from Ferkinghoff International at a price of 499 euros.