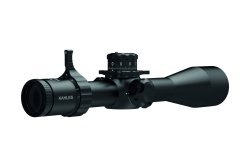 In the Precision Rifle Series, riflescopes are fought against the clock during stages, and so in addition to mechanical quality/repeatability and optical performance, it is especially important that the riflescope can be operated as quickly and intuitively as possible under the stress of competition. For this reason, the Kahles K525i DLR is equipped not only with an extra-wide field of view but also with easy-to-read clicks, extra-long adjustment lever and a parallax spinner.
Speed is not witchcraft: the K525i DLR is this easy to operate
The patented top arrangement of the parallax wheel enables ergonomically optimal, extremely fast ambidextrous operation and allows shooters to choose between left or right sided wind turret. The essential information on the turrets is displayed larger on this K525i model and is even easier to identify and operate in aiming position.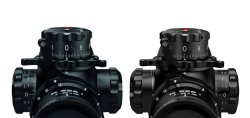 The now established and patented "twist guard" reliably prevents unintentional adjustment of the side turret by means of a freely rotating cover cap. It allows shooters to operate quickly without time-consuming locking and unlocking. The included extra-long adjustment lever and large parallax spinner wheel make magnification and parallax adjustment even faster and more intuitive. 

The new Kahles SKMR4 illuminated reticle:
The riflescope features a newly-developed, illuminated SKMR4 reticle in the first image plane, designed to match the dynamics of booming long-range matches and allow shooters to focus on the essentials of competition and place their hits on multiple targets even faster.

The Kahles K525i DLR will be available from March 2021 starting at € 3550.


Kahles K525i DLR scope specs and price

| | |
| --- | --- |
| Model: | KAHLES K525i dynamic long range (DLR) |
| Price: | 3550 euro (price may vary in your country) |
| Magnification: | 5-25 |
| Objective Lens Diameter: | 56 mm |
| Exit Pupil: | 9.5-2.3 mm |
| Eye Relief: | 95 mm |
| Field of View: | 7.7/1.6 m/100 m |
| Diopter Compensation: | +2/-3,5 dpt |
| Twilight Factor (DIN 58388): | 16.7-37.4 |
| Parallax Adjustement: | 20-∞ m |
| Impact Correction / Click: | 0.1 MRAD |
| Adjustment Range Elevation / Windage (100 m): | 2.9 / 1.3 |
| Adjustment Direction: | CCW |
| Main Tube Diameter: | 34 mm |
| Lens Filter Thread: | M58x0.75 |
| Overall Length: | 14.8"/377 mm |
| Weight: | 35.09 oz/995 g |
| Image Plane: | 1st |
| Reticle (Illuminated): | SKMR4 |
| Battery: | CR2032 |
| Warranty: | 10 years (2 years electronics) |
| Factory Accessories: | Throw lever, parallax spinner with markings |
The KAHLES K525i dynamic long range (DLR) presented in the video:
This video has been hidden because of an external service (YouTube) that could potentially collect personal data.Allow video services for the duration of the visitAllow video servicesStop allowing video services
Kahles Helia S 42 observation binoculars: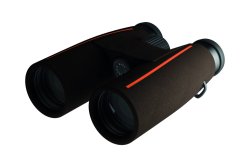 In addition to the new riflescope, Kahles is coming up with the Helia S 42 series of 8x42 and 10x42 binoculars with magnesium housings. The concept behind these observation optics: uncompromising focus on the essentials in hunting – functionality, reliability and handling. Older generations with a good long-term memory may notice that "S" stood for "Super" at Kahles already in the 1960s and was the eponym for the top product series named "Helia-Super" at the time. Now the new Helia S 42 again combine the best values and form the pendant to the successful Kahles Helia riflescope series.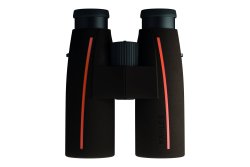 The specialty of the Kahles Helia S 42 binoculars: the huge field of view

The new high-performance optical system with its specially developed lens compensation produces high-contrast, sharp-edged images that have been optimally attuned for hunting. This is significantly showed in the large field of view of up to 136 m/1000 m and in the optical performance of both models, that were designed for a wide range of light conditions and daily use. Compact design, low weight and the resulting optimized handling allow fatigue-free observing and light luggage. The new carrying strap, originating from the photo camera sector and equipped with a high-quality quick-release fastener, also contributes to comfort.

The two Helia S 42 models will be available from April 2021 and start at € 1500.

Kahles Helia S 42 models specs and price:
| | | |
| --- | --- | --- |
| Model: | KAHLES Helia S 42 8x42 | KAHLES Helia S 42 10x42 |
| Price: | 1500 euro (price may vary in your country) | 1500 euro (price may vary in your country) |
| Magnification: | 8 | 10 |
| Objective Lens Diameter: | 42 mm | 42 mm |
| Eye Relief: | 18.5 mm | 15.8 mm |
| Exit Pupil Diameter: | 5.3 mm | 4.2 mm |
| Interpupillary Distance: | 56-74 mm | 56-74 mm |
| Twilight Factor (ISO 14132-1): | 18.3 | 20.5 |
| Field of View: | 136 m/1000 m (7.8°) | 110 m/1000 m (6.3°) |
| Field of View Subjective: | 61° | 61° |
| Shortest Focusing Distance: | 3.2 m | 3.2 m |
| Diopter Compensation: | ± 4 dpt | ± 4 dpt |
| Waterproof (Nitrogen Filled): | yes | yes |
| Approximate Height x Width x Depth: | 149 x 120 x 63 mm | 144 x 120 x 63 mm |
| Housing Material: | Magnesium | Magnesium |
| Weight: | 28.74 oz/815 g  | 27.69 oz/785 g |
| Warranty: | 10 years  | 10 years  |
| Functional Temperature: | -25 °C/+55 °C | -25 °C/+55 °C |
| Storage Temperature: | -30 °C / +70 °C | -30 °C / +70 °C |