Five components define a riflescope: the tube, the optical system, the reticle, the mechanical components needed for adjustment, and the mount. 
The first few "shooting lenses" were being mounted on rifles as far back as the 16th century, and the first telescope was used for astronomical purposes in 1613. The Viennese optician Karl Kahles is credited with the invention of the first modern riflescope.
The inventor of the modern riflescope: Karl Kahles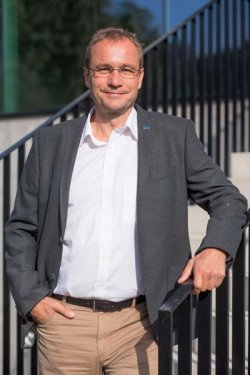 The Austrian was more of a technical pioneer than an inventor. He did not invent a new system, but instead significantly optimized an existing one. Kahles used lens pairs that were glued in place using transparent tree resin. He positioned these "achromats", as they were called, in front of the reticle and in the ocular. 
Doing so he improved the color reproduction, luminosity, field of vision, and eye relief – with a shorter tube length.
In addition, instead of spider silk for the reticle, which was commonly used until then, he used razor-thin platinum wire mounted so that it could be adjusted. 
With the "Mignon" model, Kahles introduced the riflescope design commonly encountered to the present day: with a slim tube (back then 25 mm in diameter) as well as thicker lens and ocular.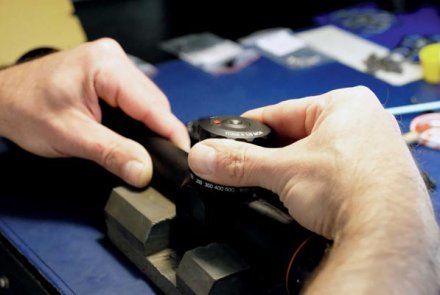 Assembling riflescopes requires precision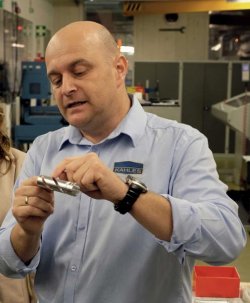 The first riflescopes were extremely expensive. According to Karl Kahles' price list, a reticle cost three crowns in 1909 – more than a day's wage in those times. A biconvex lens without a frame cost up to 16 crowns – as much as 100 kg of grain for bread. 
The cheapest KAHLES model Telorar with "patented four-cross reticle and elevation screw" cost two months' wages at 110 crowns. The reason for the high prices? The manufacturing of high-quality lens (pairs), tubes that were as round as possible, and the delicate high-quality mechanisms was time-consuming, and assembly was performed by hand.

The procedure is the same, even today. This became evident during a visit to the KAHLES production facility at the company's headquarters in Guntramsdorf, which was built in 2012.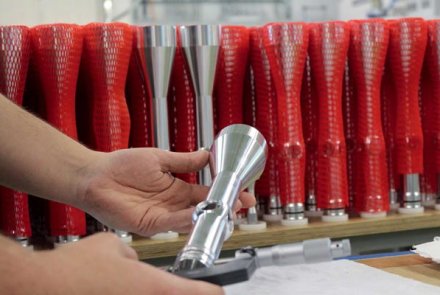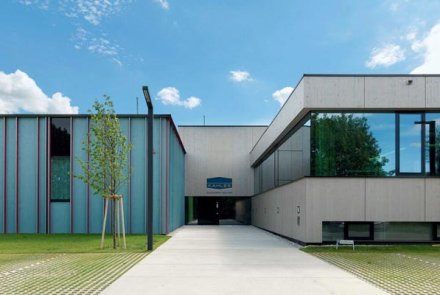 High-precision metalworking for riflescopes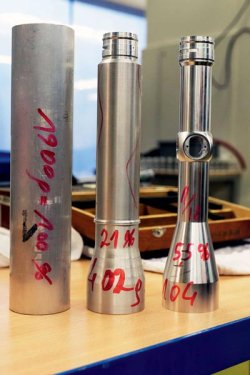 KAHLES manufactures the tubes from solid aluminum rods. First they are heated and cooled again according to a closely monitored temperature program. This eliminates tension in the material. Subsequently, the housing is turned or milled out of blanks weighing almost two kilos. 
The finished housing barely weighs more than 100 grams. Following that, the tube blanks are de-burred by hand, given a special interior structure in order to ensure optimal elimination of light scatter, cleaned meticulously multiple times, and then hard-anodized.

Most of the mechanical components are also turned and milled, such as the adjustment wheels of the turrets as well as the mounts for the reticle. All of this is done with a high degree of precision. A reticle that is just 5 micrometers outside the focal point will produce an error of 50 millimeters at 1,000 meters. 
Nothing less than utmost precision will do for the production of radial cams for the zoom function. "The wall thickness of just one millimeter and 'zero-play assembly' in the tube to ensure maximum shooting stability and repeat accuracy of adjustments make this one of the most delicate tasks", explains Peter Aichberger, Head of Sales at KAHLES.
A barrel at the edge of the room shows what he means. In it lies scrap aluminum, including a number of radial cams. Objects that end up here did not fulfill one or several of the many precision test requirements for every component to 100%.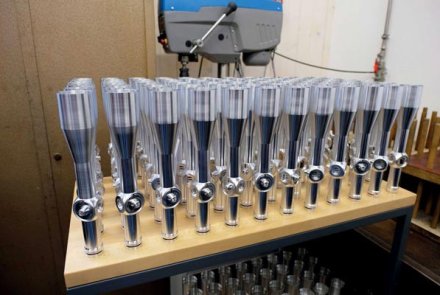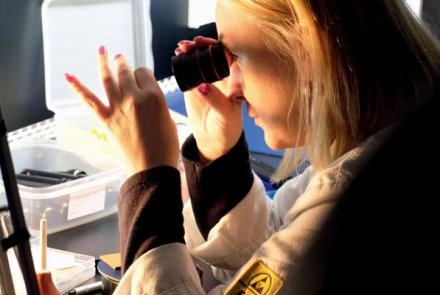 KAHLES also relies on in-house expertise for surface finishing. The CNC-manufactured blanks for turret, ocular, or parallax adjustment mechanisms, the housing, and all mechanism components are laboriously de-burred in part by hand, sandblasted, cleaned, finished, and labeled with a laser according to methods developed in-house.
The manufacturing process for the optics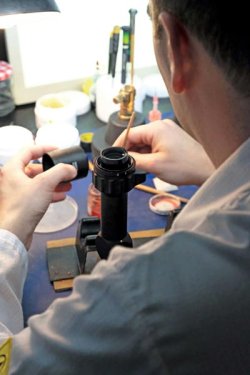 Once all the housing and mechanical components are complete, they come to the most delicate stage of the manufacturing process. Entry into this ultra-clean area is not permitted without special clothing. Furthermore, just like in many other manufacturing areas, a sophisticated climate control system ensures a constant temperature, humidity, and that the area is free from dust.
Spotlights shine precisely calibrated amounts of light at the work stations. Otherwise, it is dark. And almost eerily quiet. The only sound breaking the silence is a slight occasional clicking. It comes from the indentations of the turrets that a staff member is carefully installing. With a practiced hand, a good ear, and a great deal of skill, he adjusts it over and over again. First slowly, then more rapidly, sometimes forwards, sometimes backwards.
Just a few meters away, lenses are being inspected, cleaned, and placed in their frames with sealing rings. The lenses are manufactured by specialized suppliers according to KAHLES's exact specifications.
At other assembly stations, electronic components for illuminated reticles are pieced together, radial cams installed, reticles positioned, and turrets mounted. Measuring just a few millimeters, perfectly round spheres, tiny springs and gaskets, guides, catches, bolts, cotter keys, screws, pins, and components whose functions are incomprehensible to laymen — are combined to create the final product.
Assembled by tremble-free hands with the aid of tiny special tools, magnifiers, and extremely fine brushes which are used to apply a wafer-thin layer of lubricating or adhesive agents, mixed according to secret formulas. Everyone works with a steady hand, highly focused, almost wordlessly – and every component is inspected repeatedly, meticulously and with sharp eyes.
Precise inspection of riflescopes
After assembly, basic adjustments and inspections are carried out on each riflescope on a measurement bench with a proprietary design. In a simulation of targeting distances of up to 1,000 m as part of the final check, the expert inspector identifies even the smallest errors in the optics or mechanics.
Only once it has passed this test with flying colors will the new KAHLES riflescope be packaged and sent on its way to the customer.