This partnership is also based on the fact that the Austrian quality manufacturer recently added to its product range optics that are especially designed for dynamic shooting. We already presented the new Kahles K18i 1-8x24 as successor of the K16i, which was developed in cooperation with the best IPSC/3-Gun shooters. The riflescope with 30 mm tube and a field of view of 42.5-5.3 m/100 m is available with two different reticles in the second image plane. The reticles are precisely tuned to the respective sporting use with regard to the aiming points and holdover lines. To change the zoom factor quickly at any time, two individually adjustable throw levers in alternative sizes are included. The K18i will be available from specialist retailers for around 2500 euro from March 2020.
Kahles: sport & hunting optics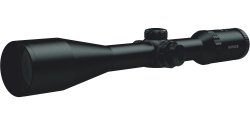 The Helia 3.5-18x50i is a new addition to these stalking and high seat hunting riflescopes series, which impress with their uncompromising focus on the essentials: functionality, reliability, handling and aesthetics. The 18x magnification of the Helia 3.5-18x50i allows for spotting of distant targets with an impressive level of details and precision. The parallax compensation knob, combined with the light control, prevents a meeting point deviation due to a parallax (sighting error) and ensures maximum sharpness of image and reticle at at the higher magnifications. The powerful optics system provides exceptional edge sharpness and a brilliant, true-color image. The optional ballistic drop compensation (SV) and other useful accessories are available for personal customization and make it the perfect tool for hunting. The HELIA 3.5-18x50i will be available from specialist dealers for around 1950 euro from March 2020.
Kahles Helia RF-M laser rangefinder: measuring instead of estimating
The new Helia RF-M is the first monocular laser rangefinder by Kahles that has been especially developed for hunting situations. Fast target detection up to 2000 m, a large field of view with exceptional edge-to-edge sharpness, intuitively simple operation/menu navigation and an extremely compact and ergonomic design are the main features along with a high-quality OLED display and integrated EAC function (patented enhanced angle correction). At only 214 g it's also an absolute lightweight. The Helia RF-M is available from specialist retailers for around 550 euro from April 2020.
Official partnership with the IPSC world umbrella organization
The Austrian optics manufacturer and the International Practical Shooting Confederation announced a cooperation/partnership. "We share the passion and professionalism of ambitious shooters and support their aspiration to continually enhancing performance," said Kahles and IPSC in a press release. "Thereby our focus is on sporting competition, striving for perfection, responsible weapon handling and safety in shooting sports. IPSC as a sporting discipline represents all of this in a perfect way. We are therefore pleased to announce the cooperation with the IPSC (International Practical Shooting Confederation) world association as an official partner for riflescopes in the field of 'IPSC Rifle'. Our common goal is to promote the sport shooting disciplines of the IPSC and to contribute to further expanding the IPSC community of today more than 200.000 members worldwide. With this step, we want to continue on our chosen path of close networking with the IPSC community, in order to constantly sharpening our understanding of the challenges of this sport and of the resulting product requirements. Only through a deep understanding of user requirements, we are able to continuously improve our products and thus provide best possible support to the shooting community.""
IPSC President Vitaly Kryukhin explains: "Our sport is a technical sport. The success of athletes depends on the quality of the equipment. Companies producing equipment for our athletes are also developing sports as we, IPSC officials. Therefore, we attach the highest importance to partnership with companies producing and supplying sports products to our athletes. Because only in such close cooperation are victories and the best products for humanity born". 
Kahles cites the new K18i as an example: it was developed with the support of top shooters from the IPSC and 3-Gun scene and which is uncompromisingly optimized for these disciplines.