The Aimpoint Micro T-2 2 MOA featured in our test is a compact, lightweight red dot sight designed to be mounted on shotguns, semi-automatic rifles, submachine guns and assault rifles. It is an evolution of the previous T1 model, compared to which the high-strength aluminum house body of the T-2 has been further reinforced. It is a sight designed for military use and therefore built without compromise.
The key difference between the T-2, which is intended for tactical-military use, and the H-2 model, which is primarily designed for hunters, lies in the red dot brightness settings. Whereas in the T-2 we have four settings for night vision and eight for standard use, in the H-2 we find 12 settings for standard use.
It is worth remembering how its first version, presented to the press in 2014 during the Eurosatory exhibition in Paris, was initially available for the military market only. The body is aluminum and has a length of 2.67"/68 mm and a width of 1.6"/41 mm.
Aimpoint Micro T-2 2 MOA, the red dot with something more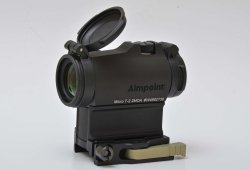 With the Micro T-2, Aimpoint has taken a step forward in terms of ruggedness and compactness. It is a red dot sight with 1X magnification factor with a 2 MOA  red dot, while in similar optics the diameter of the illuminated dot is usually 3 MOA.
The diameter of the 2 MOA red dot allows you to aim with great accuracy: at 5 meters it covers a target area of 0.118"/0.3 cm that become  0.59"/1.5 cm at 25 meters and 1.18"/3 cm at 50 meters. But it is not only a matter of coverage: during our field test it became clear that the red dot itself is very crisp, more than the dot in products that are similar but not equal. And we are not the ones who say that – our tester, who has been using red dot optics for over twenty years, does.
Dot brightness can be set to 12 levels, four of which are intended exclusively for use in conjunction with a night-vision scope, plus one super-bright setting that can be used to increase the apparent diameter of the dot, should the need arise. It is irrelevant for civilian use but not for professional use, but at ranges greater than 10 meters the sight can't be detected by night visors, even when observed from the front.

The range of adjustment is ±1 m at 100 m in elevation and windage, with a red dot adjustment of 0.51"/13 mm at 100 meters, or 0.39"/10 mm at 80 meters.  
The weight of the red dot is 2.9 oz/84 g, that become 3.66 oz/104 g by adding the quick release mount. In this regard, it is worth mentioning that there are several different types of quick release mounts available, from Picatinny rails to 11 mm dovetails, typical of air rifles. The ACET technology ensures an impressive run time with a 3V CR2032 lithium battery: 50,000 hours, equal to more than five years of operation.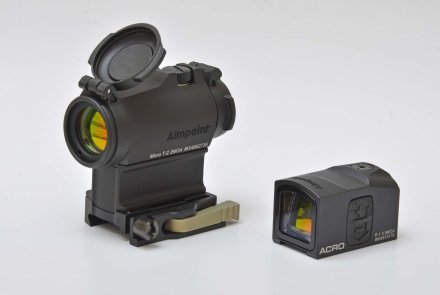 Should a higher magnification factor be required, the Micro T-2 can be easily combined with the Aimpoint 3X Mag-1 and 6X Mag-1 optical add-ons, at 3x and 6x magnifications respectively.
For our field test, we mounted the Micro T-2 on a .223 Remington POF 415 semi-automatic rifle, a very interesting gun that we had the opportunity to test previously fitted with a Vortex Razor 1-6X gen2 scope. The Aimpoint Micro T-2 proved excellent during shooting sessions up to 50 yards – we were limited by the size of the shooting range itself – allowing us to take full advantage of the inherent good accuracy offered by the rifle's 14.5"/370 mm barrel.

No doubt, you can find something less expensive on the market. But if we believe the motto "you get what you pay for" – which is particularly true when it comes to optics – the Aimpoint Micro T-2 is practically eternal, if used in the correct way.  We liked it – and a lot – so we can only recommend it.

Aimpoint Micro T-2 2 MOA specs

| | |
| --- | --- |
| Model: | Aimpoint Micro T-2 2 MOA |
| Price:  | 809 USD - around 689 euro (H2 model) |
| Magnification:  | 1x |
| Window Size:  | 18 mm |
| Adjustment per Click: | 13 mm at 100 meters |
| Adjustment Range:  | 1 m at 100 meters |
| Length: | 2.67"/68 mm |
| Weight:  | 4.58 oz/130 grams with mount and cover |
| Red Dot Size:  | 2 MOA |
| Brightness Settings:  | 12 |
| Battery Type:  | 3V CR2032 |
| Other Features:  | Picatinny/Weaver mounts |