Based in Phoenix, Arizona, Patriot Ordnance Factory is a small company that has been manufacturing semi-automatic AR15-style rifles since 2002.
Its founder Frank DeSomma, who unfortunately passed away just a few days ago, was a former aerospace engineer and sports shooter who started building ARs in his own garage, initially with the help of his son and grandson. Today Patriot Ordnance Factory, or POF if you prefer, boasts a production of about 800 rifles per month in a manufacturing area of over 2500 square meters where 50 employees work.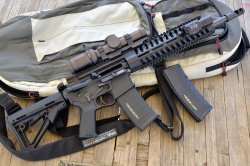 It was the first in the USA to produce an AR15 with a short stroke gas piston system, that the company offers in its catalog together with several models featuring the conventional direct impingement system.
DeSomma's intention was to build a virtually unjammable AR-platform rifle that would not suffer from the typical problems of the direct impingement system, especially in environments where sand and dust were present.

An AR15-style Black Rifle different from the others
The weak point of the direct impingement system is the carbon residues that form and accumulate on the bolt, which in the long run can cause feeding issues and jams.
It is no coincidence that the manufacturers recommend a complete cleaning of the gun every 600 rounds.
Frank DeSomma solved all this by creating a system in which the gases push an adjustable short-stroke piston, producing the impulse necessary to make the bolt move backwards, also avoiding carbon residue build-up on the bolt carrier.
Piston-operated AR15s heat up less, so extending the rifle's life.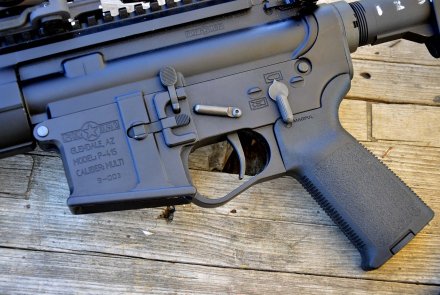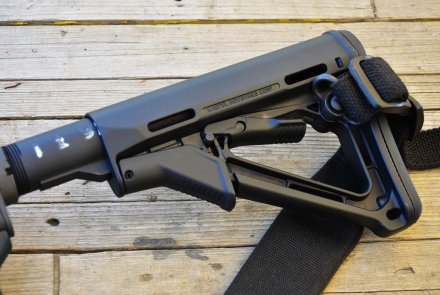 The POF 415 in .223 Remington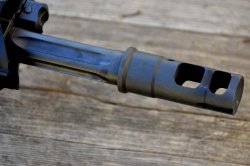 The POF 415 Generation 3, the object of our test, is chambered in .223  Remington caliber. In the 14.5"/37 cm barrel version it weighs 3200 grams. The rifle features a single-stage, non-adjustable Timney trigger assembly made from A2 steel with a pull weight of 2000 grams. The safety levers, magazine release and bolt release are ambidextrous. Pins are anti-walk type.
The heavy barrel of the POF 415 is fluted, made from chrome-moly steel with a hardness of 70 HRC. The factory three-chamber compensator/muzzle brake features a glassbreaker, but in our test sample this was replaced by a Surefire MB556 compensator.
The grip has been replaced with a Magpul MOE grip, while the factory telescopic stock is a CTR model, also from the US accessories manufacturer.
Quick release swivels for the Vickers two-point sling come from Blue Force Gear.
To complete the range of accessories, on the POF 415 the owner mounted a Vortex Razor 1-6X Gen. 2 scope with Tactical-MIL reticle on quick-release mounts.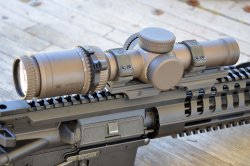 The POF 415 is a sturdily built rifle with some interesting solutions, even if invisible: the generously sized handguard provides on all four sides support to as many Picatinny rails and hides a finned heat shield for better heat dissipation – 17 times more than a traditional AR, where exhaust gas pressures are higher.
The bolt carrier has a self-lubricating NP3 finish, as well as the roller cam pin, while bolt head, extractor and firing pin are chrome-plated.

This video has been hidden because of an external service (YouTube) that could potentially collect personal data.Allow video services for the duration of the visitAllow video servicesStop allowing video services


Heavy, but very stable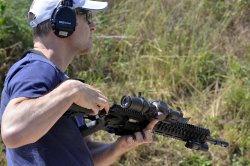 When configured in this way, the rifle weighs about 11 lb/5 kg: not exactly a twig. For those who practice static supported shooting there are no problems. For those who want to practice more dynamically, it's advisable a good physical preparation, since the rifle is hefty and quite muzzle-heavy because of the heavy barrel, but in particular because of the handguard. If you add an additional 1.5 lb/700 grams of optics, when you execute mag changes, transitions and manipulations, all this weight is felt. Sure, nothing inhumane – especially if you do short stages. If, on the other hand, you carry the rifle on the sling for a few hours and alternate various types of stages, then fatigue is felt. Thanks to its mass and the compensator, there's no muzzle climb with the POF 415. Recoil is mild and it feels like shooting with a much lighter caliber than the already soft .223 Remington. Firing noise is deafening instead, either because of the piston system or because you still have a muzzle velocity of around 2950 feet per second, if you are not equipped with excellent hearing protection systems you'll go home with a little tinnitus. All in all, the POF 415 is a very special Black Rifle that certainly offers advantages to competitive shooters for whom the above average weight is not a problem.

POF 415 Specs
| | |
| --- | --- |
| Manufacturer: | Patriot Ordnance Factory - USA |
| Model: | POF 415 |
| Action: | Gas-operated semi-automatic |
| Caliber: | .223 Remington |
| Barrel Length: | 14.5"/370 mm |
| Trigger Pull Weight: | 4.4 lb/2000 grammi |
| Magazine: | AR15 compatible |
| Sights: | None, Picatinny optics rail |
| Weight: | 8.1 lb/3700 g |
| Price: | Not available |