Aimpoint, a leading Swedish manufacturer and innovator of red dot sight technology, has been selected by the U.K. Ministry of Defense to supply its ACRO P-2 sights for the Alternative Individual Weapon System program, designated L403A1.
The AIW will consist of three elements: the L403A1 rifle system based on the KS-1 (Knight's Stoner 1) assault rifle designed by Knight's Armament Company, the L900A1 optic system, and the training system. As part of the optic system, Aimpoint will supply the ACRO P-2 red dot sight. Initially, the L403A1 weapon system will equip the Ranger Regiment, formed in December 2021. It is the third regiment created since the end of World War II and consists of four battalions capable of tackling the most operationally and technologically demanding missions.
Aimpoint ACRO, born for handguns, good on "black rifles" too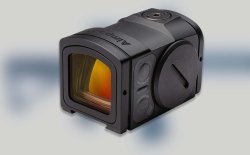 Built to exceed user requirements, the ACRO series sights have been tested and proven to withstand the shock, vibration, temperatures and extreme material stresses generated by firing more than 20,000 rounds of .40 S&W ammunition. Primarily designed for use on handguns, the ACRO next generation can also be mounted on carbines, shotguns and rifles, or used as a backup sight on magnified scopes and thermal imagers. These versatile optics are night vision compatible and are the ultimate solution for extremely rugged, low-profile and compact sighting needs.
Erik Jeppsson, Sales and Marketing Director of the Swedish company said, "We at Aimpoint are extremely proud to be part of this Hunter project that pushes the limits of innovation for the modern personal weapon system. We trust our distributor Edgar Brothers to bring the system into service alongside DE&S in a very professional manner, and that our product will contribute to the success of the AIW by enhancing the soldiers' ability to effectively perform their mission."
The supply of Aimpoint ACRO P-2 sights to the British Ministry of Defense will be through Edgar Brothers, as Prime Contractor and U.K. distributor of the Swedish brand.