Until now, it had only been exhibited at security trade fairs only, away from the curious eyes of the public, but now even the numerous visitors to the Las Vegas SHOT Show were able to see and touch first-hand the new Aimpoint CompM5b.  
Franco Palamaro, © F.PALAMARO
Aimpoint CompM5b reflex sight − Features

The Aimpoint CompM5b is the first red dot sight where the reticle position can be quickly adjusted to compensate for ballistic drop for the distance to the target. Wind or lead compensation can be adjusted too, and the sight also comes with interchangeable turrets, which are adapted for different calibers at different distances.
The CompM5b allows for rapid change of ammo types and distances without having to compensate for the bullet ballistic drop or re-zero the sight. The reticle is automatically adjusted in the sight when adjusting the turrets. The 2 MOA red dot offers ten brightness settings. The power supply is provided by an 1.5 V LR03 alkaline battery or FR03 lithium battery that guarantees a 5-year life at lighting setting 7 and 10 years at settings 1 to 4 for use with the night vision devices.
The sight is equipped with a quick-release base that allows for mounting and dismounting in a jiffy, and the extremely robust construction also includes a front lens cover. The weight of the Aimpoint CompM5b complete with base and turrets is 8.95 oz/254 grams, while the sight alone weighs 5.64 oz/180 grams.
The CompM5b is waterproof up to 45 meters and is compatible with all generations of night vision devices and Aimpoint's magnifiers (3XMag-1 and 6XMag-1). The price is not fixed yet - we will stay on the ball for you.
Aimpoint CompM5b specs

| | |
| --- | --- |
| Model: | Aimpoint CompM5b |
| Type: | Reflex sight with ballistic compensation |
| Magnification: | 1x |
| Aiming dot size: | 2 MOA |
| Weight: | 9 oz/254 g (standard configuration) |
| Material: | aluminum |
| Length: | 3.4"/85 mm |
| Width: | 1.9"/49 mm |
| Height: | 1.9"/49 mm |
| Battery type: | 1 AAA 1.5 V Alkaline LR03 or Lithium FR03 |
Our personal assessment of the Aimpoint CompM5b red dot sight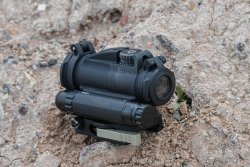 Franco Palamaro, © F.PALAMARO
The optic has the same dimensions of the M5 . However, the new model has the battery compartment located at the bottom left. The "b" in the model name stands for "ballistic compensation". Especially in combination with the 3XMag-1 and 6XMag-1 magnifiers from Aimpoint, the new illuminated dot sight can fully exploit its advantages and significantly increase the first shot hit probability at varying distances. It is therefore a good alternative to "solutions" such as a riflescope with attached red dot sight or a riflescope with integrated red dot. But the new Aimpoint CompM5b cannot and should not replace a "full-fledged" scope of course.
---
Find all the news from  SHOT Show 2020  on all4shooters.com / all4hunters.com.